Reviews
SEPTIC CHRIST "Infected Existence"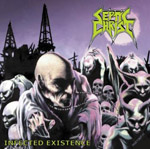 Malevolence Records – 2009 – Germany
Yes it's an old album for review, but I have new one too, first I have to check this than the other one.
According to bands biography, they formed in 2005 as "Nothing to Nothing", than they split up and formed again in 2007 as "Septic Christ". They released a demo in 2008 and this is their debut album.
The band plays old-school thrash metal with modern touches and sound. Songs played like a machine, perfect! Drums and bass guitars are very compatible, it sounds excellent. Song compositions are creative, not a clone of the 80s or 90s.
If you want to listen some open minded and modern thrash metal band, give an ear to Septic Christ. I can recommend this album.
8/10