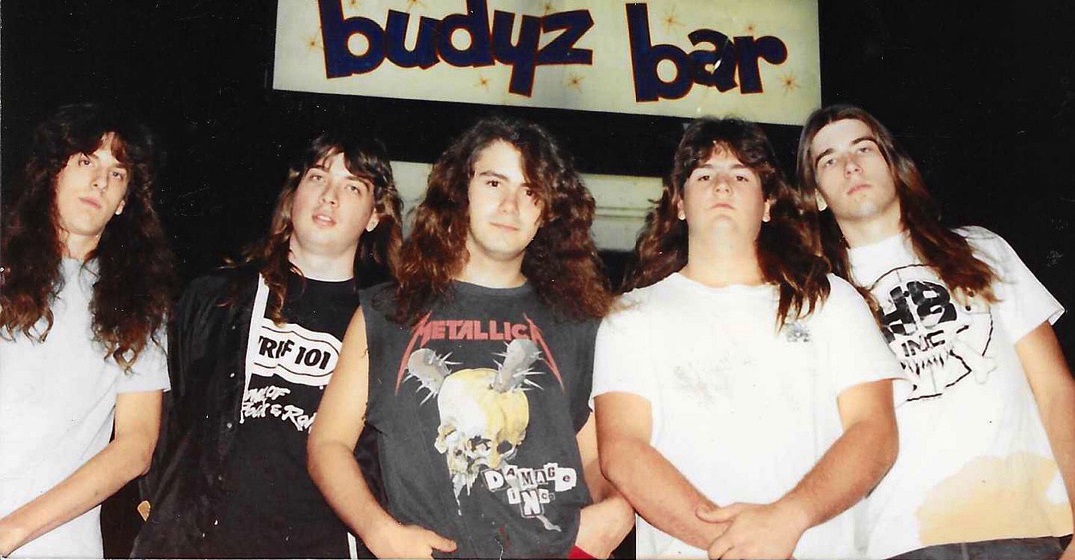 What was your initial reaction when you found out that Thrashback Records wanted to release your 2 demos from 1990 and 1992 on CD?
Sean: I was kind of shocked. I didn't think anyone really remembered who we were. Friends who saw the post from Thrashback were texting me about it and were really encouraging me to make it happen. To be honest, I wasn't sure. I reached out to Thom and Rick and we felt that maybe this was the right time for this to finally happen.
So Sean, what made you want to pick up the guitar and were you self-taught or did you ever take lessons? How did you end up discovering underground metal?
Sean: My dad played guitar and there were always guitars and amps around the house for as long as I could remember. I started getting kind of serious about it when I was 12. I was mostly self-taught. But I did end up taking a few lessons from a jazz guy when I was around 16. But back then I was really into Eddie Van Halen and Yngwie, so I didn't really appreciate what he was teaching me until much later. Rick was more of the underground metal guy at the time. There is a local record store here called Zia Records and they had a lot of metal on vinyl. Rick would buy records of all these bands we had never heard of and introduced us to a lot of that stuff.
How did the coming of Reckless Abandon come together? Was it pretty easy for the 5 of you to come together How soon was it till you guys as a band began to write songs that would come to be on your debut demo called "Dead Winter"?
Sean: In 1987 Rick and I were in rival high school bands and when those bands broke up, it just seemed like a great idea to join forces and see what we could do. Joe went to our high school too and the first time I heard him play drums, I knew he was going to be our drummer. Our bass player at the time brought in Mike who was the singer from his previous band. The original bass player didn't work out and we found Thom and everything clicked for us. We started out doing some covers but also writing original material almost right away. Rude Awakening was the first song we ever wrote.
Now who came up with your name and logo of the band?
Sean: We were having a hard time finding a name. One day Rick, Joe, and I went to the school library and grabbed a dictionary. One of the first words in the dictionary was abandon and the first thing that popped into my head was Reckless Abandon. We all liked it and decided to go with it. Rick designed the logo and did all the artwork for the band.
Now your songs are long. Did you, when you were writing songs for your debut, did they just come out this way.
Sean: We didn't realize the songs were so long until we got in the studio to start recording. We had recorded Victim of the Modern Age and the engineer asked us how long we thought that song was. Five minutes? Maybe six minutes?
He was like, no. That song is over nine minutes long and your master tape only holds 13 minutes. We had to borrow tape just to record the other 2 songs.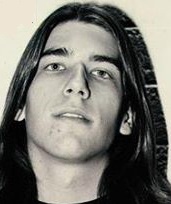 How was the response overall to your debut demo? Did you know about tape trading, fanzines, college radio, etc. and if so, did you send the demo out to Zines and if so what were the reviews like?
Sean: Locally, it did well. We got some airplay on one of the local radio stations that had a show that played Arizona metal bands. And we sold a bunch at Zia Records. I'm not sure where he got it, but Thom got a hold of a list of fanzines that Sacred Reich was sending all their demo tapes to. We sent out a ton of tapes from that list and got some decent reviews not just here in the U.S. but in Europe and Japan too.
Did you get to share the stage with many bands at this time? If so who? What was a live show like for you guys?
Sean: We played shows with most of the local metal bands here at the time. We did a lot of shows with Lurch Killz and Psychic Pawn. But our biggest achievement was that we got to open for Tool twice at a little dive bar called The Mason Jar. The first time, no one knew who they were yet and there were probably only about 30 people there. The second time, Undertow had just come out and they were starting to get big. The place was packed. Playing live for us was like a roller coaster ride. We tended to write these crazy riffs that were hard to play at their normal tempos. The adrenaline would kick in and everything would be way faster than normal. I'm not sure we always pulled it off. But we tried.
Now in 1992, you released your 2nd demo called "Catharsis". Did you feel this was a step up from your debut with better production, better songs, etc.?
Sean: I felt like our songwriting had gotten better and was more focused. We were no longer writing nine-minute-long songs. The music scene was starting to change around this time with bands like Soundgarden coming on and I think we let some of those influences get into our style a little bit.
Did you send this out to fanzines and stuff and if so what was the feedback like?
Sean: We sent Catharsis out to a bunch of the same magazines that we sent Dead of Winter to. The overall feedback was pretty good. But the difference between the songs being less thrash on Catharsis was pointed out as well.
Did you send either one of your demos out to any record companies during your existence? If so, did any labels give you any interest at all?
Sean: think we sent tapes to every record label. We got a few sent back with a note saying they didn't accept unsolicited demos. Most didn't reply at all. I think Roadrunner Records was the only label that sent us back a letter saying if you record any new material, send it our way. But nothing ever came of it.
What led to the band breaking up? What is a band break up or more of a mutual break up?
Sean: By the time the band broke up, the kind of metal we were playing wasn't really being well received anymore. Towards the end, we parted ways with Mike and talked about doing something as a four-piece with more of a straight-ahead rock kind of sound and even wrote a couple of songs in that vein. But I don't think any of us truly had our hearts in the project anymore. Practices started getting canceled on a more regular basis and I think we all knew it was over.
Was there ever any talk of doing any reunion shows over the years or did anyone ever contact you about putting out your music until now?
Sean: After the band broke up, Joe, Thom, Rick, and Mike all eventually left Arizona so a reunion wouldn't have been very easy to put together with all of us that far apart geographically. The only time our music was re-released was a couple of years ago. Our friend Nikos, who was in a local band called Mizery, put together a CD of local bands called Arizona Dry Hate Compilation which featured two of our songs. That's how Thrashback Records found us.
What did you do with yourself after the band broke up and what are you doing with yourself these days?
Sean: I stayed active in music for a little while after that playing in a cover band. Rick moved back to Arizona, and we were in a couple of different bands together. My last musical project was a solo CD released in 2005. These days, I'm still in Arizona hanging with good friends and living my best life.
Are you in touch with any of the other band members and if so what do they think of all this?
Sean: I've stayed in close touch with Thom and Rick over the years. During the COVID lockdown, we did a Reckless Abandon Zoom meeting. It was the first time all five of us talked and saw each other in over 20 years. We are all very excited about this CD release. I don't think any of us ever thought something like this would happen.
Any plans to do a Facebook page or any social media pages?
Sean: I'm not a social media guy. But if someone else from the band is feeling ambitious, maybe it could happen.
Sean, any last words for anyone who is reading this and has purchased this CD?
Sean: Thank you to everyone out there who is keeping the old-school thrash and power metal alive. On behalf of all of us in Reckless Abandon, we are beyond grateful to you.