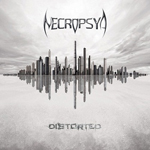 Eigenproduktion – 2011 – Brazil
The Brazilians NECROPSYA are already since the year 2000 musically active. They released in 2011 "Distorted" in in-house production.
The guys play a mix of Death Metal and Thrash Metal. Thereby are also temporary excursions into other Metal realms not uncommon. This symbiosis of hardness, innovation and melodies constitute the sound of NECROPSYA. You can also hear Groove Metal insertions. They relax "Distorted" a bit. Nevertheless the all in all thirteen songs remain hard in its basic values. The variable vocals of Henrique Vivi give the production additional innovation and alternation. Therefore NECROPSYA doesn't stint here on happiness to try out new things which however become the production. The songs are fresh and go forwards. Productional well recorded NECROPSYA offer everathing a modern Metal cd needs. Check out "Distorted". It's worth it!!!!