Featured
Interviews
Trending
Morbid Angel Interview w / Dan Vadim Von
Morbid Angel is the primary game changer in the extreme metal music scene and of course one of the truest pioneer and inventor of Death Metal. I had chances to talk with Trey and Steve before and now I talked to Vadim Von who's an inner friend/artist/full-time guitarist of Morbid Angel for our readers.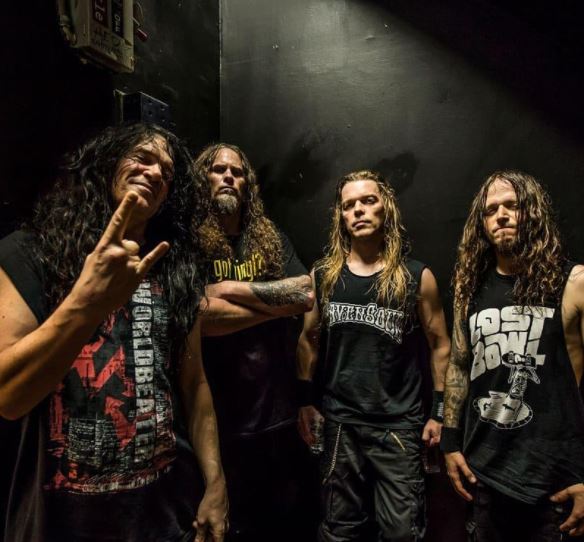 Hello Vadim! Greetings from Extreme in All! What are you doing with your axe and creative mind nowadays?
Hello and greetings to you as well. These days I am keeping busy by composing new material and looking forward to the world opening back up after this ridiculous pandemic.
How were you absorbed by music world and started to play guitar ?
I started to play music at a very young age, actually began on classical piano and switched mainly to guitar a few years later.
When and how did you get into extreme metal music world and want to be an artist and musician in this art of dangerous mind ?
I didn't get introduced to extreme metal until my early teenage years, having spent my early childhood in the Soviet Union before it collapsed. I moved to the United States as a kid and my eyes were opened to a whole new world and the music that came with it.
Let's talk with your contribution to the mighty Morbid Angel as a full-time axe-shredder,how was it happened?
My contribution to Morbid Angel first began about fifteen years ago as a visual artist. I made a lot of shirts, posters and various designs for the band. Then they began taking me on various tours with my own project as an opening act until eventually I was invited to join the band.
How did Morbid Angel start to write Kingdom's Disdained? What ideas and motifs motivated Trey and you guys to write this magnifical new era of Morbid Angel ?
Kingdoms Disdained was a return to the heaviest period of the band, it recaptured some of the feeling from Formulas and Gateways albums, it was something that happened naturally. Trey is a very creative artist and this was his way of channeling what was next for Morbid Angel. A dark and crushing volume of extreme music.
Let's go on talking about Kingdom's Disdained.For the production and recording part of this sick beast,how were the things and all other arrangements done?
The album was created during the change that was taking place within the band, beginning with demos and then further structures of the songs.
How were the tours&gigs of Morbid Angel in 2017-2018 and so far to support Kingdom Disdained? Do we have any possible shows ahead?
All the shows were great, we performed to some of the best fans in the world and toured with some great supporting bands. Obviously a break had to be taken because of the situation in the world. But it's getting back on track and the things that are being currently planned will be announced in due time.
Did Morbid Angel have any problem like delayings of rehearsals,shows,or a release in this global pandemic time?How have you guys dealt with this new normal?
Yes, of course everything and everyone in the entertainment business was affected by the pandemic. We are no exception. But at the same time it gave everyone a chance to work on personal things and various aspects of life outside of the business, so it wasn't all bad. Everyone is doing well and looking forward to the return to normal.
How did you start your personal death metal band Vadim Von as a band back in time? Is it still active?
VadimVon was something that I started long ago as a solo recording project and for the first couple of years it stayed that way. Then an EP was released by a UK label and it began gathering some momentum. So it was suggested that I made it into a live band and recorded a full length album. We toured a good bit. Tragic things happened in the lineup, first the original bass player passed away. Then a while later my drummer passed away. It was too much to endure, so eventually when I joined Morbid Angel I decided to put it to rest. Perhaps it will re-emerge one day. Time will tell.
You are also a graphic artist as far as I know and you create artworks and web-designs for others including Morbid Angel. How did you start your career and the things went on in this kind of art?
I've been involved in visual arts all of my life. As a kid I studied at the Hermitage Museum in St.Petersburg, Russia, and eventually continued in art school in the US. I spent a long period of my adult life as a professional visual artist and designer aside from being a musician.
What guitars do you play now? What kind of guitars and guitar designs are you attracted by?Which ones are your all time favorites?
I generally like guitars that are built with quality, first and foremost. I went through a few different endorsements over the past years. I have always used DiMarzio pickups and electronics. Currently I am endorsed by Ibanez guitars, of course they make some great instruments, especially the Japanese models. Best guitar necks in the business for metal. But I always look forward to discovering new things, so we will see what the future holds.
Some fans and guitar players would like to learn this for sure,what guitar pedals and other equipments do you use? Can you advise any ?
I suggest that every guitar player finds their own sound, it's a matter of personal preference. I would recommend checking out some cool brands of effects like NUX, HeadRush, and of course Morley wah pedals. And RAT distortion for the awesome tone that blends well with any good setup.
What kind of music and bands do you listen to nowadays? Have you ever experienced or enjoyed any style of music except to death metal as a musician?
I like music for the creativity that's involved, so I never have been limited by any particular style. I can enjoy things by Jimi Hendrix and The Isley Brothers no less than something brutal and technical, it's all about the originality to me. Sabbath, Kino, Frank Marino, ELO, Mercyful Fate, the old Misfits, you name it. Anyone who limits themselves to one particular style of music is only robbing themselves of so many cool things and the various emotions that they entail.
What structures and tunes are Trey and you guys focusing on while you are writing new riffs and songs with Morbid Angel for a possible upcoming release of unearthly art of death metal nowadays? What kind of an album should we wait for ?
Its hard to predict what album to await from Morbid Angel next because the band is an ever evolving machine. One thing that I can say is that it will most definitely be an album that the fans will enjoy. Very original and cool ideas are in the works. And it will be very Morbid Angel.
Morbid Angel has one of the sickest fan base in extreme metal music world. How do you see and describe their reactions to Morbid Angel and expectations from band for now and future?
You're absolutely right, the band's fan base is out of this world. The best and most dedicated fans ever. It is hard to describe the feeling of standing on the stage while performing the songs and seeing the absolute dedication and the passion for the band's music in the eyes of the fans. It drives us to deliver the best every night. Incredible fanbase that's truly a big metal family. Honour and respect to all.
Thank you for your precious time and answers.What would you like to tell to the Morbid Angel fans out there?
Stay true, stay metal and most definitely stay Morbid! Great things are ahead. Hails to all.