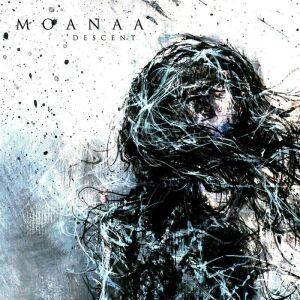 Self Album – 2014 – Poland
The Polish band MOANAA is already since 2008 existent. In 2014 they released their debut cd "Descent" in in-house production.
You can hear here pure Doom Metal. Slow, halting riffs and the shallow drumming accompaniment seem to meld and to become a depressive, sad unity. Nevertheless they reflect a certain hardness which benefit the total production. The sounds take the listener into a pitch-black world full of tears and hopelessness of which there seems to be no escape. The diversified vocals which offer everything from clean vocals to dark growls emphasizes and reinforces the hopelessness. The all in all eight songs are all locatd in the upper mid tempo area. This yet reinforces the depressive atmosphere. Pure emotions which make goosepimples and let run a shiver down the listeners' spine. "Descent" is sowith no easy to consume cd. To the contrary. You have to take some time to get to know the opus in all ist facets.But, the stony, painful journey pays! Recorded with a lot of heart's blood and dedication I can only recommend MOANAA!!!!
9/10