Featured
Interviews
Melissa Moore/ Sonja – Crossspitter Interview
Sonja is fresh blood to the scene with their hot heavy riffs and unique sound. Soner had a good and long chat with Melissa about music and more…Let's go!
-Hello Melissa. How's life going on in the war front of Sonja?
Hello!  Now is an exciting time for Sonja as the birth of our child nears its moment.  For so long we have worked towards this event.  Our excitement is very present, but we do tremble to know that the night will devour us further.  Some people may have known about the band for a while, but there was never an official release and any live performances were rare.  We have always been dealing in the shadows, and now we spread into the light.
-How did you start up Sonja band? What motivations and musical rapture got you into the path of Sonja?  
Sonja is a dark heavy metal that is very real and very unheard of.  It is a long and treacherous path to creating this enigmatic music.  My bandmates and I necessarily allow ourselves to be consumed by the dark corners of humanity to be allowed to play such songs.   But really there is no choice.  The craft is ours, but the lyrical experience is of my life.  We have no power over Sonja, we serve her.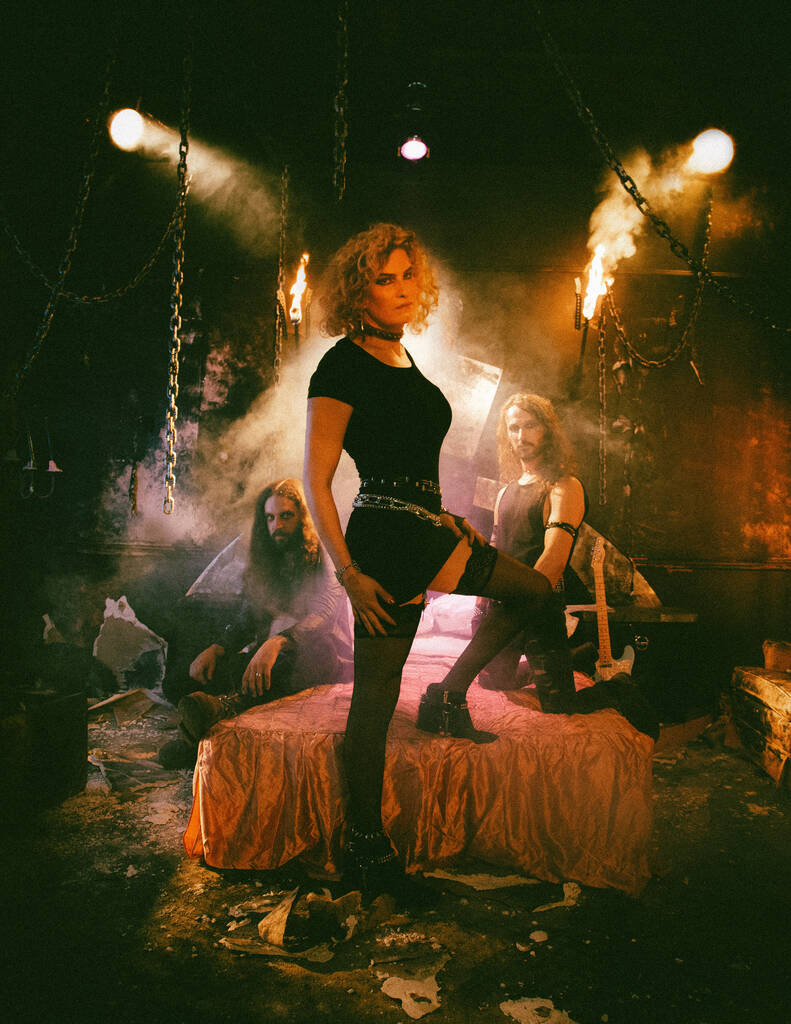 -Could you tell us how did you band and start Sonja? 
I was on tour in Australia with Absu and I was starting to see that the other members didn't possess the willpower to thrive long-term.  I was on the telephone with the future Sonja drummer the moment that tour was over to start this new band.  I think we spent almost a year dreaming before we gained our bassist.  So Sonja was secretly working between our other still active bands at the time.  Eventually, the tangible desperation of Sonja captured our complete focus.
-Who are the musicians you work with within the Sonja? Could you introduce your comrades to the sin? 
It is an intense demand to be in this band so we are lucky to have intense people!
Ben Brand is our bassist.  He is also the synth master of our album.  Years ago I occasionally played live with a band called Woe and Ben was my replacement after I was no longer able to be available.  Once I saw him display monstrous rock energy on stage I was impressed.  He later was the bassist for the band Tombs for a long stretch of time.
Grzesiek Czapla is our drummer and also my longstanding musical comrade across many bands.  We met when he was the drummer for Infernal Stronghold.  Eventually, he ended up playing some live drums with me in Absu.  The initial visions that led to the creation of Sonja were between him and myself.
-Sonja's debut album Loud Arriver is on the way for September, as far as I dig it, it's total heavy to the core! How did you compose your songs for your new beast? 
A glimmer of darkness is where it all starts.  It could be from any instrument.  When we meet, we all bring the raw materials that are composed together into the song.  It is very alive and collaborative.  The refinement can take ages to find the rhythm that properly captivates.
-How was the recording and production process for Loud Arriver? Could you tell us about the studio time and other credits? 
Drums, Guitars and Bass were recorded by Dan Kishbaugh prior to the pandemic.  Vocals were tracked with Arthur Rizk during the height of the pandemic.  When the vocals were complete, a template mix was created by Dan, and a final mix and master were created by Arthur.  This all spanned over the course of 3 years and our obsession with the process was intense.
-I think Sonja is a band of full evil heavy riffs and song structures from different angles. How could you describe Sonja and your new full-length for our readers and fans who want to know Sonja?
The riffs of Sonja are quite literally the soundtrack to the lightless days and nights of our lives.  We would not be worthy to create these sounds without the knowledge and experiences of our rock n roll fate to guide us.  But Sonja is also the gentle rest in this darkness when you fully embrace it and let go of all hope.  It's a pulsating sound and very rich.
-How did you get contracted with Cruz Del Sur Music? How did they reach you?  
Cruz Del Sur reached out to us well before we had an album simply from an unannounced two-song demo we put online.  That proved to me that they knew for sure what was going on in the hidden alcoves of heavy rock and metal.  It was initially expected that we would have this album out much earlier but the chaos of our dying world needed to be navigated first.
-You are the main guitar player and singer in Sonja. How do you feel about being a singer and guitar player?
Sonja requires me to be the voice and I obey.  I have no history as a singer but we write songs that are very vocal forward.  Of course, I don't hold back on my guitar playing. So it's death or glory for me.
-What are the lyrical and philosophical concepts you built for Sonja? 
Primarily these songs are exposing my life but with general meaning not strictly limited to my experience.  Sometimes I go between esoteric tones or more "telling it like it is" tones.  Philosophically the band only exists to ignite true rock spirit in these dark days we live in.  This is not achievable by looking to the past, only by acknowledging the present.  We do things at the scale of maybe a huge 80's band on a major label but we have no similar resources.  That level of loudness is important
-You've just released a video of your single Nylon Nights. What are the concepts and stories behind it? Could you tell us the production details and how you shot it?
This video was really the first visual of our band released to the world.  We got the great director Zev Deans (Ghost, Mastodon, Behemoth, Mayhem) to do it.  It was a heavy collaboration between us.  It feels like we could make a whole movie out of this.  We're just showing what the real femme queer as fuck heavy metal vibe is.
-Let's go back to your roots! When and how did you discover music for the first time? 
When I saw the movie Waynes World for the first time!  After that, I started to listen to the radio hoping for loud rock but always being disappointed that it was never being played. The first metal tape I got was Metallica – Master of Puppets.
-How and when did you discover and dive into heavy metal and underground extreme metal music? 
 I had a group of friends and we started a band together when we were about 12 years old.   We were reading metal mags and doing whatever we could to get the albums.  Stuff like Metallica, Iron Maiden, Manowar, Slayer, Gwar, Type O Negative, SOD, Nine Inch Nails, Nirvana, Celtic Frost, Sepultura, Venom, Possessed, Danzig, and especially Mercyful Fate.  There became a point when we all became completely obsessed with Mercyful Fate and King Diamond.  This was in the mid 90s.  Then our singer discovered Emperor "In the Nightside Eclipse" and Cradle of Filth "The Principle of Evil Made Flesh" when those two albums came out.  My first Black Metal CD when I was 14 years old in the 90s was Absu – "The Sun of Tiphareth"  So once I joined the band years later I already knew how to play the old school songs.
-You are a well-known veteran musician in the underground over the years, what're the ups and downs for you personally in the underground music scene? 
Good:
It was exciting to sign my first record deal back when that happened.  Being asked to join bands I respected was always enjoyable.  Booking successful DIY-style tours was a major positive.
Bad:
Losing bands or friends, especially for senseless reasons.
– You have a full of black metal, thrash metal and now a heavy metal background in your musical career. What does music in general and extreme metal music mean to you? What are the differences between genres musically and spiritually for you? 
I always say I have lived my life for Rock n Roll and now I will die for it.   Regardless of genre, I think every band or project has a spiritual essence that I must tap into for my involvement to make sense.  Whether it's my concept or someone else's, I immerse myself fully.  If it seems unsustainable I will remove myself.  But each band even within a genre has its own unique thing that can't even really be named with words, you just have to find it.
-Crossspitter! You guys released a monstrous demo and it banged a lot to my ears for the last two years. Could you tell us how you banded Crosspitter? 
Yeah that's pretty fucking crushing, right?  Hold on, let me get my friend Donna Violence to answer this portion…
Donna Violence: Crossspitter is not just mere disdain for the symbols of Christianity, but an inexorable dismantling of its omnipresence that insidiously frames the virtues of this world.  The land is rife with fools whose values have been directed by an absurdity that is anti-human.  This first act is to disrespect and humiliate the cross which enables their weakness and evilness.
-I'd like to know what things you are doing with Crossspitter nowadays. What are the plans and gigs and more about it? 
Donna Violence:  While we incite the masses and spit our rebuking message on various tours and festivals, we also drench the symbols of our enemies and finalize the writing of a full length.
-As a guitar player, you've been pretty active since the middle of 90s. From Solace in the Shadows to Absu to Rumplestiltskin Grinder to Crosspitter and Sonja and of course more! How and what things changed and evolved in your musical perspective and techniques as a musician and guitar player? 
Every single band demands something new of me as a guitar player, and as time goes on that expands my possibilities.  In each band, there has sort of been a different central focus to my playing.  For example, Absu was about a pursuit of inhuman speed.  The vibrations of which are a unique sensation to feel.  In Crossspitter that speed is used to strategically fuel this hollow bludgeoning filth.  In Sonja, it is about drawing the maximum emotional potency out of the most direct musical statement.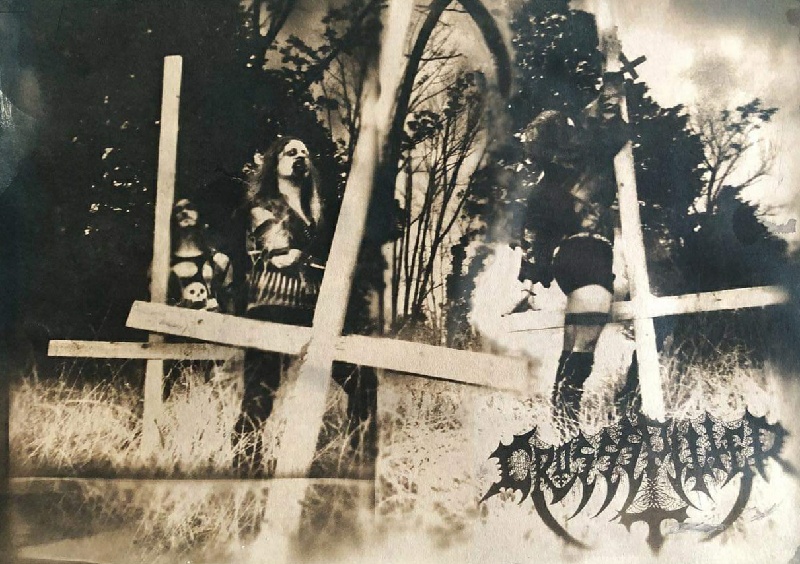 -Who are your all-time favourite bands and musicians the influenced your musicianship? 
Some guitarists I love are Jimi Hendrix and Andy Laroque.  And I think Uli Jon Roth is like a combo of those two styles.  For Sonja, I really take a lot of the vibe of the first 4 Danzig albums.  I like how on Danzig 1 it's barely any gain on the guitar but hits so hard.  I think the best players are minimalist in their actual sound or tone and they make it all happen with feel.
-We usually ask Short Questions to musicians who we welcome in Extreminal. Here we go;
A-What are the first and last albums you bought?
The first CD I bought with my own money was Metallica '…And Justice for All'.  My most recent purchase was The B-52's first record.
B-The first guitar you bought and the last guitar you use?
The first guitar was a Lyon by Washburn (strat knockoff)
The most recent is my Thinline Telecaster
C-What non-metal bands or genres do you listen to? 
I listen to a lot of synthwave goth types of things.
D- What concert did you attend to never forget and influenced you the most? 
My first one: Iron Maiden
E-What was the best gig you played and do you still think it was amazing?
Honestly, there are too many to put one on top
F-What are your favourite food, drink, and beverages? 
These days they give me a vodka soda with pineapple.
G-Who are your favourite authors and philosophers? 
Author: Torrey Peters
Philosophers: my friends
-Loud Arriver is released on September 23rd,2022. What are your plans after the release? 
Sonja must play everywhere.
-I really enjoyed having a chance to talk to you and to do this killer interview. What do you want to say to your fans and our readers out there? 
Thanks for the interview.  The true kingdom of rock n roll cannot exist without death sworn soldier babes to hold its gates…we will do our duty for you!