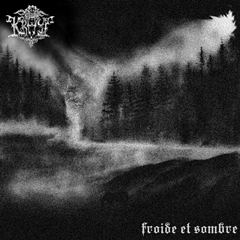 Salute Records – 2013 -India
KRAYL is a 1-man project from India. Svartblods latest opus "Froid Et Sombre" was released in September.
The gent plays here Old School Black Metal. Raw, eerily beautiful tones which often come in also calm and without vocals. This weird musical mixture shows self-reliance and creativeness of the project. Dark worlds which are icy and misanthropic develop. It seems that there is no escape for the listener. The nagging vocals reinforce the primitiveness of the all in all four songs which all move in the mid tempo area. "Froid Et Sombre" receives an experimental touch by the interspersal of acoustic, spheric parts which however doesn't distracts too much of the real target, the Black Metal. KRAYL is successful in presenting Black Metal alive and nevetheless traditional also in the year 2013. Very ambitious and kept original you should listen to "Froide et Somre" preferably yourself. I can only recommend KRAYL!!!!
8/10