Featured
Interviews
Interview With Mauricio Castro Bobadilla of Betrayed
Betrayed are a wicked thrash metal band from Chile and here is an interview I did with guitar player Mauricio Castro Bobadilla and check out them on Thrashback Records as well as they re-released some stuff from the band.
Where were you born and where did you grow up?
MB: I was born in San Antonio, Chile. I grew up there, with very little info about music (no internet or magazines there), a very small local scene (4 o 5 bands playing live), and just listening to what the local radios had to offer.
Did you have many friends growing up?
MB: Yes, At school, a friend of mine stole a copy of "Kill 'Em All" from his brother, so we listened to it (1995 I think) and it blew our minds. Since that, his brother showed us classic thrash and punk bands, so my friends and I grew up listening to Metallica, Slayer, Nofx, Misfits, Suicidal Tendencies, and that kinds of bands.
Did you get into music at an early age or did that come later on?
MB: I started at 10, and learned how to play the guitar at 12. In my city, there were not a lot of fun things to do, so I started learning everything I heard to play with my guitar, just by ear.
What event or events made you want to pick up the guitar and did you ever consider the bass or drums or even signing?
MB: A couple of friends of mine wanted to make a band, one was on lead vocals and bass, and the other one started drums classes and studies, so, I had to pick the guitar. I played bass for an Iron Maiden tribute band, but the guitar was always my favourite instrument.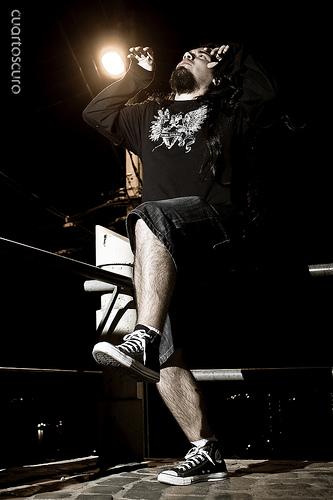 Who are some of your favourite guitar players and how good of a guitar player do you think you are?
MB: My favourites change from time to time, but my all-time favourites are M. Friedman, K. Hammet, G. Holt and D. Darrell. My technique is close to M. Amott I think haha, at least I can play all his stuff from Carcass and Arch Enemy.
Now I know your in the band Betrayed now and I saw you were in a bunch of other bands over the years and you don't play on the early Betrayed releases, and that is ok. So how do you think your experience being in other bands has helped you now being in the band Betrayed?
MB: Yes, from band to band my skills were growing, being better, stronger, faster, and everything I learned through the years helped me to dominate Betrayed's stuff. Those aren't songs that any guitar player with standard skills could play, the historical members of Betrayed made tons of auditions with various guitar players, some of them very talented and I'm surprised they didn't fit in the band, because I'm a fan of the bands from where they came. But the guys of Betrayed saw me playing, and after a few shows with my previous bands, they invited me to play some stuff just to see if there is some kind of feeling around the band and my guitar style. I learned the stuff (they just send me a drum track with an acoustic guitar track) by ear, and then we realize how powerful the band sounded. That's the story, at the second rehearsal, I became a permanent member of the band.
Now, are you in any other bands besides Betrayed at the moment?
MB: Yeah, I'm playing the guitar on "SIGMA" https://www.facebook.com/Sigma.Crossover, "SAN BLAS CHURCH" https://www.facebook.com/sanblas.church.58 and "THEPLASMAS" https://www.facebook.com/ThePlasmas.
Now since you were not on the band's 1st three releases. Do you feel that the band improved over time from their debut up to their 3 release, which was a mini EP called "Looters Will Be Shot"?
MB: Yes, they changed members, they grew up, got better at their instruments, you can realize it watching the live shows through the years. I always loved betrayed, since school, watched almost every line-up live, and I tried to take the best parts of every guitar player to do my own stuff with the songs, the riffs, the solos and the backing vocals. Looters Will Be Shot was my first recording with the band, I was very nervous but my experience recording guitars spoke for itself.
So now how did you end up joining the band? Did you get along with the other band members right away? How long were you in the band before you started writing songs which are on your latest release called "The Unbeliever", which originally came out on "Artaria Records", but was recently re-issued by the great label Thrashback Records? Looking back what are your thoughts on this release?
MB: I was partying with JL Olmos, the lead guitar, we know each other for some years before I join Betrayed. He and Toño Cabezas (Bass player) saw me play a couple of times with another band I was playing at the time, and then Toño asked me to join the band. I spoke about that to JL Olmos and he sent me the drum-acoustic guitar tracks to start learning the songs and rehearsal asap. The song "Looters Will Be Shot" was already written, but I added some harmonies, my guitar solo, and my own riffing to make a difference in what JL plays. That song was the condition Erik Flores gave the band to stay with us on Vocals, so we put our asses into the rehearsal room to work, a couple of weeks after we went to the studio, we recorded some tracks in my own home studio, and then Imperial Lion Studios in Santiago, Chile, did the mixing and mastering work on the song. Then we re-recorded it with the new songs from "The Unbeliever", and repeated the process. I had the chance to work on the riffs of the other songs, the harmonies, some lyrics, solos and some song structures. The recording process was very fast, we were all full motivated working on it, so that's why the album was finished so fast. We all are very proud of the album, and the fans seem to love the songs there.
Since you joined the band, have you gotten to play many live shows and how do you think you are as a live band?
MB: Yeah, we identify ourselves as a live band, we love to play live, that's the reason we recorded albums. We had the chance to play at various Chilean locations, cities, festivals, etc. We love it and it seems the metalheads here like the band, doing mosh pits and that crazy stuff.
For someone who has not heard the band, what would you say you sound like?
MB: I think you can expect a mixture between Testament's Low era and Exodus's Tempo era, but with more simplistic and straight-to-the-face riffs.
When do you think we can expect some new material since it has been 4 years or so since your last release? How has all this COVID shit affected the band?
MB: I really don't know. Every member of the band is busy with our own side projects, some members are dealing with health issues, and the COVID situation here made the live playing harder every month. The quarantines and government decisions weren't the best for us, as musicians/artists, lots of clubs closed, bands split up, and musicians looked for jobs to pay bills, these are very rough times for us, for the music itself and for every other kind of art. Maybe we could do more stuff when all this pandemic ends, I really don't know. We are still friends, hang out, party and that kind of stuff, but when the music calls us, we'll be ready to deliver another powerful album.
Please plug any social media sites you have at the moment.
MB: We are on Spotify https://open.spotify.com/artist/3XcWczYE3KY0ghfVt9IsyV, Facebook https://www.facebook.com/Betrayedcl.
Horns up for doing this chat and any last words to wrap this up, the floor is yours my man?
MB: Thank you for the interest, the support, and the chance to show our music to your people. We hope we can still make more music for every metalhead in the world, so stay tuned for more news. Here in Chile, we have lots of amazing bands, so I invite all of you to check them out and give them a listen. Stay safe metal brothers and sisters!
Video to check out via Thrashback Records: https://youtu.be/0Ld40rALBKc
Label: https://thrashbackrecords.com/