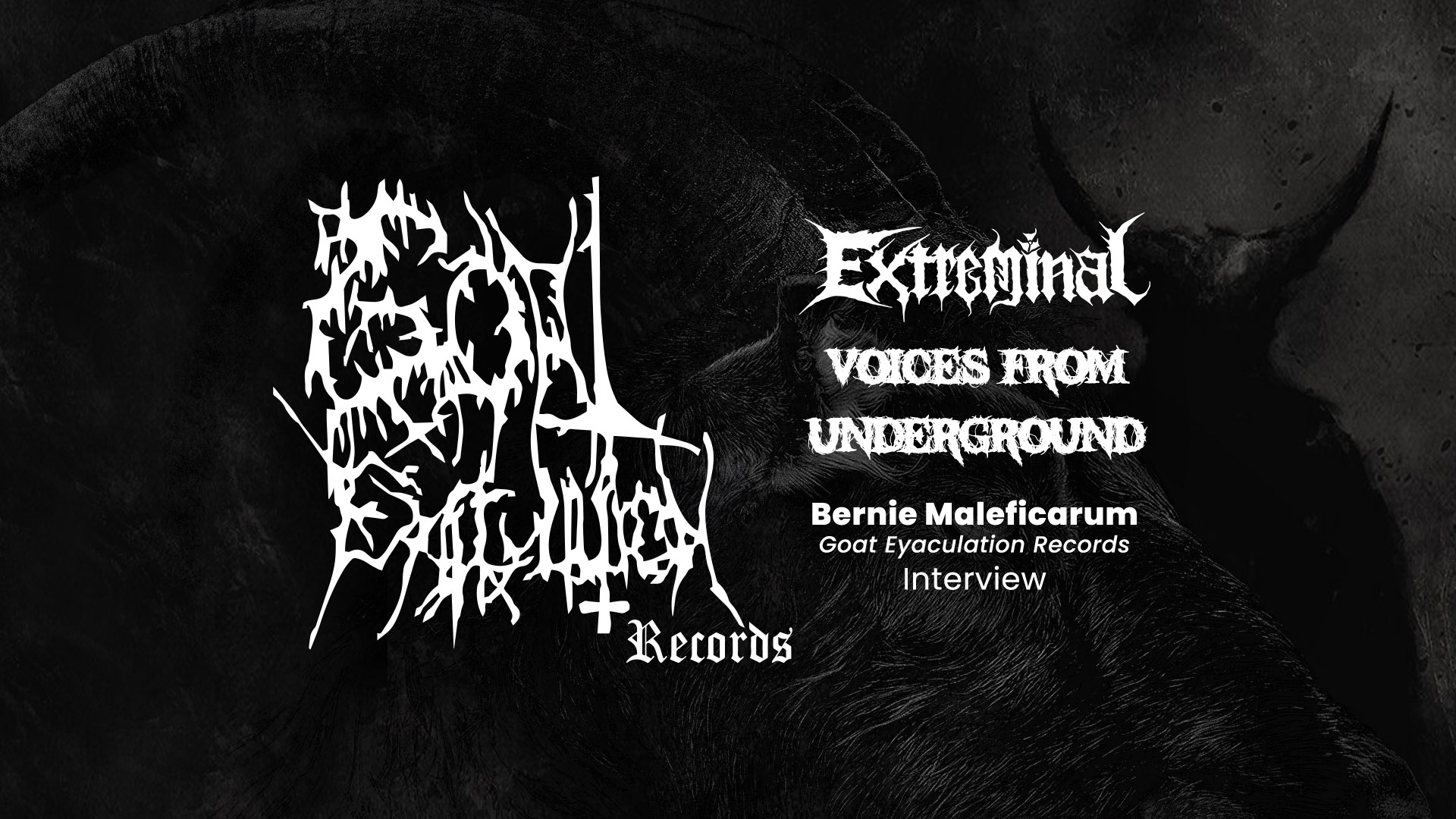 Where were you born and where did you grow up?
BM: I was born in Lima, the capital of Perú 42 years ago, and all my life I have lived here.
What sort of kid were you growing up?
BM: I've really been a quiet kid, ha ha. is true. The restlessness came like many in puberty and later adolescence, in Perú life was not easy at all, so it was time to mature quickly and face the subsequent problems.
Now how did you come to discover underground metal music in Peru? Was it a certain band you heard?
BM: Like many people of my generation in Perú, I got to know underground metal in high school. We were 3 or 4 children with 12 and 13-year-olds who exchanged zines and tapes during class, then we collected the money that our parents gave us for the lunch and we spent it by buying more tapes and re-recording everything that came to us. In the year 90 or 91, it was not easy or cheap to buy original tapes, so we bought "pirate tapes", that is, Sony, Maxell or Samsung tapes recorded with the band's music and with copy xerox covers.
If I had to remember some band that I could say: "Here it started it all", those bands would be Slayer, Venom, Iron Maiden and Metallica.
Now, what gave you the idea to start up a label? Did you have an idea when you were gonna start up one, exactly how to do it?
BM: Not really, you know, it wasn't planned at all, you're always thinking "I like this band", "I'd like to give them a demo". But with all the time and cost that it entails, it is complicated, then the impetus of the banger comes out and you say "fuck it, let's do it".
This is passion and not looking for profit, many labels now no longer look at what they release, but what can generate more money, and it is there where the essence is lost. That's why I prefer to release, in most cases, new bands that are worthwhile or reissues that justify being released.
How did you come up with the name and did you throw any other names around before you came up with the name for the label?
BM: The name was the idea of my friend Augusto from the VLAD band from Perú, who had already released 1 or 2 productions previously but could not continue for a time, so I continued it.
The name was not changed, because it represents the universe of bands that I edit, let's say that a power metal or symphonic goth band would not have a place on the label.
Now are you the only one working at the label or do you have someone else helping you?
BM: Yes, let's say that I am the only one. I have some strategic partners who help me with some logistics, of course. But in general, I am the only one to make the decisions.
Now how long did it take you from the time you thought about starting up the label until you put out your 1st actual release?
BM: It's very relative, you know, sometimes I don't release anything for a long time because there are no new bands that justify being released, and sometimes there are many bands that I like and I have to choose ha ha ha.
Now back in 2011, when you put your 1st release, how did you find the band and were they cool with being the first band on a new label?
BM: I am honest, I do not regret any band that I have released, some of them have been more constant than others, but it was what I felt at that moment, so all good.
How many copies of your 1st release did you do? Is it sold out or still for sale? If it is sold out, would you consider re-issuing it?
BM: The first release was 100 copies and yes, the first releases are already sold out, even some recent releases are too. I had not thought of reissuing some productions really, but I think it's not a bad idea either.
Now from 2011 through 2013, you did a total of 6 releases. Now in 2014 and 2015, you did no releases. Is there any particular for this? Was it you found no bands that you wanted to release?
BM: Exactly, as I said in a previous answer, this is very relative and sometimes it takes a long time until a band touches you or you like it enough to release some production.
Now I know you have done cassette and CD releases. Do you have any plans in the future for doing any 7" or even 12" vinyl?
BM: In fact, I have done some co-productions for vinyl releases (7 "/ 12") but I do not include them as own productions of the label.
Where do you get your stuff done?
BM: Well, I have a place inside my house especially for everything that the label demands, there I receive all the trades that I do outside the country, you know that for these things a lot of free space is required, separate from my personal collection, of course, ha ha ha
Are people overall cool with putting out cassettes and that they purchase them?
BM: Here in Peru, people have always collected tapes, some seasons more than others, of course. For this reason, the labels have always published tapes, but not in large quantities because it is very expensive, here there are no factories that produce them and you have to import from other countries.
Do you have many people in Peru buying your stuff or is it pretty much all over the world? Do you have any license deals with any other labels in any places in the world?
BM: In my case and for of the style of underground bands that I edit, not much stuff is sold in Peru, mainstream metal labels sell more. Most of my stuff I sell or trade outside the country. I have been doing trade with underground labels around the world for almost 15 years and I thank the labels for their support of the bands that I release.
Now around how many copies do you print up for each release?
BM: Generally I edit 50 copies only, with a few exceptions where I have edited 100 copies.
Do you have actual contracts with the bands or are bands free to do as they wish after you release their product?
BM: Yes, bands are free to do whatever they want after a release. The important is to support the band and that his stuff goes to more ears.
Do many bands contact you about releasing stuff? How do you decide which bands to work with?
BM: Not really, ha ha ha. By the name of the label, it is understood that I only try to edit bands in the most extreme way.
As I told you in a previous answer, I edit bands that I like and that I'm sure are not fake or opportunistic bands.
Does Peru have a solid and good underground scene these days?
BM: I would tell you that there is a small underground movement. There are great bands, labels, concert promoters, zines and bangers who always honestly, but I would not call it "scene". Our underground movement is small but very honest.
Do you ever go out looking for bands yourself to sign? Are you very selective on who you work with?
BM: Sure, in the trades I do, I'm always listening to new bands from my country or from other countries to see what can be released.
Not so selective really, the only thing that matters to me is that it is a band consistent with what it does and says. That is not a band impulsing by fashion and not by passion.
What styles of music do you sign?
BM: Any band that runs underground way, thrash, death, doom, black.
Do you work a regular job and how much time in any given week is spent doing label related work?
BM: Fortunately, I work independently and that way I can manage my time. With work, my band, concerts and the label, you have to know how to manage your time in the best way. Metal =24 hours a day, 7 days a week !!!
Are all your releases currently for sale or are some sold out?
BM: Yes, the first releases are already sold out, as these are limited quantities of 50 or 100 copies, they sell out fast. The last 6 or 7 releases are still available.
How do you get the word out about a new release?
BM: Well, first of all, I have to like the band and that the members be coherent people with what they say, then take into account what products they have recently or can be reissued.
Speaking of, what has been your last 2 releases? Tell everybody a bit about them.
BM: Our last 2 releases are:
IMPALER OF PEST (Colombia) "Quantum Collapse" G.E.R.015
This is their third Full Length, previously released on CD and now for the first time on cassette.
A band very faithful to the old South American metal way, that I had the opportunity to see them play live when they visited Peru a few years ago.
For this edition, apart from the 8 tracks, 2 bonus tracks were included
MORBOSATAN (Perú) "Necro Perversion" G.E.R.016
This is their second Full Length, previously released on LP/CD and now for the first time on cassette.
With some previous Demos, EP´s, Splits and a first Full Length edited in USA and Europe, now they bring us 9 tracks keeping
the legacy of the old Peruvian bands.
You can only expect chaos, death and perversion in this release !!
What are some new releases you recently released and how about 2022?
BM: Releases 2021:
Esbbat(Colombia) / Legion of Doom(Perú) "Where the Demons rule" Split (GER 014)
Impaler of Pest (Colombia) "Quantum Collapse" Full Length (GER 015)
Morbosatan (Perú) "Necro Perversion" Full Length (GER 016)
Coming Soon October/November 2021 !!!
Necropsya (Perú) "Inhuman Pestilence" Full Length (GER 017)
Vorpheruz (Perú) Demo (GER 018)
Now how would someone be able to see what releases you currently have and to be able to order your stuff?
BM: Sure, to see the previous releases, and be aware of the next releases, you can visit the fan page on Facebook:
fb.me/GoatEyacuationRecords or writing to:
[email protected]
Horns up for doing this interview and best of luck with the label. Any last words to wrap this up?
BM: Thank you very much, Chris, for your support for the label and greetings from Lima, Peru for all your readers, horns up and stay underground !!!!!!!!