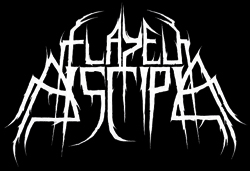 Greetings and welcome to the pages of Extreminal.com. As a starter please present your band to those among our readers who still don't know you ?
Jon Whitfield: First of all, thanks for having me! We're Flayed Disciple, from the UK. The best way to find out what we're about is to listen to our album or catch us live! I'd say we're a thrash band at heart, but with the heaviest death metal vocals and a furious drummer! Look us up online or come to a show!
You were supposed to tour Eastern Europe with CEREBRAL BORE but the tour unfortunately was cancelled.Can you tell us what happened exactly and do you have plans to visit Eastern Europe anytime soon ?
Yeah that whole tour was a massive disappointment. It was all down to the booking agent, all the shows were booked and promoted well, but it turned out that none of the travel was sorted. So Cerebral Bore were stuck in Scotland and we were stuck in London. The agent was contracted to provide all travel for the tour, but none of it had been done so we just couldn't get from venue to venue. We're working with Cerebral Bore to re-book the tour for next year though. We definitely want to tour Eastern Europe in 2013.
Tell us a few words about your debut full-length album "Death Hammer".Why did you choose this title having in mind that ASPHYX released a new album entitled "Deathhammer" earlier this year ?
Haha, we've heard that from a few people now. We'd never heard of Asphyx or their album at the time, so it was just a coincidence.. We got the name from a flyer we made for Bloodstock Festival in 2010, we'd called ourselves 'A Death Hammer of blistering thrash!' and it stuck with us since then. I think our album is way better anyway, so it doesn't worry me.
Where did you record the album and are you happy with the final result ? Any funny stories during the recording process ?
As our first full length album and recorded in the short time we had available, I think Death Hammer is fucking brilliant, really happy with it. We recorded it at Foel Studio which is a small cottage in the valleys of Wales, owned and run by ex-Hawkwind bassist Dave Anderson! So hanging out with him was cool as fuck. Lots of smoking and lots of drinking. 16 days locked up with Tim Whyte is enough for anyone though, you don't want to know half the shit that went on in there!
What can you tell us about your label Grindscene records ? Are you happy with your mutual work with them so far and which bands on this label you like ?
Yeah Grindscene are a great label. We were put in touch with them through Cerebral Bore at the start of 2011. Grindscene released their first album before Earache got hold of it, and we'd seen them release some cool records. The deal we have works really well for both of us. We're the highest selling artist they've had, so we're both happy. Zombified and Neuroma are a couple of great bands on Grindscene, but check out their webstore as they are a distro label too. Loads of cool shit on there.
How was the response of fans and critics towards your debut album? Did you get positive feedback ?
So far yes, it's been really positive. We got loads of cool shows from it, like Bloodstock Festival and the Indian Metal Festival we're doing in December. It was a good learning curve for us as a band too, we know the direction we're heading in for the next album now. We got really good reviews from Metal Hammer and Terrorizer Magazines over here, so we can't ask for more than that really.
What do you think about today's extreme metal scene in UK? Are there enough good bands,are there enough good shows?
I think it does alright, but personally I think it's saturated with too many shit bands. People are always worried about who's supporting their local shows, but when the bands are unheard of or just not very good then it's obvious no one will show up. You can see how healthy the shows are when a decent touring band comes over and they're packed out. We live in a small town with no live venue, but we'll always travel out to see a cool band.
How does a FLAYED DISCIPLE concert looks like ? Do you play live often?
As often as we can yeah, we don't play the same city too often in a year, so we book our shows carefully! We've been a lot busier since Death Hammer came out, so it's all going well. Our live shows are full of energy, it's the best part of a live metal show. Watching Tim do his vocals live is immense, he's the most Death Metal singer around at the moment I think!
Can you recommend any new and promising extreme metal bands from your area?
Not from our local area, but there's a band called Seprevation from Bristol that have really impressed me live recently. They're a proper old school band that don't give any bullshit. They're awesome. Cancerous Womb from Scotland are due to release their first album in 2013 too, really looking forward to that one.
Who are the artists/bands that have inspired you to start playing death metal?
Mostly all the old thrash and death bands really – from Megadeth, Motorhead and Slayer up to Cannibal Corpse and Napalm Death. We take inspiration from loads of different sources though. We're all into different styles, which is why our music doesn't stick to just one sound. From tracks like The Shrine Of Dahmer to Pig, there's a big difference I think. There's an old band called Demolition Hammer that we really dig at the moment. They've got some crushing riffs that I can't stop listening to at the moment.
Which one is the best and which is the worst metal album for 2012 in your opinion?
Worst album – I haven't listened to any really shit albums so far this year, I know there's plenty out there, but I just haven't listened to them. There's been some pretty big releases this year, a new one from Napalm, one from Corpse too. But I've been well into the new release from Dead Beyond Buried, as well as the new Aeon record which I'm only just listening to today! It's the nuts.
How big are your dreams ? Which is the next goal for FLAYED DISCIPLE ?
We're going to take Flayed Disciple as far as we can, it's great being in a band that gets the opportunities to travel the world and play our thrash! It's hard to manage a working life along with the band, and we're not touring enough to be able to ditch our day jobs yet but I hope it will get to that stage soon. Our next goal is to release album number 2! We've already got a few fucking great songs written for it, and we're set to record in mid-2013.
Any final thoughts ?
Just to say thanks for the interview, and for any readers to download Death Hammer for free at our bandcamp site – www.flayeddisciple.bandcamp.com. We give downloads for free as it's better to have our music heard by as many people as possible. We don't care too much for money, the more people hear the album then the more chance we'll get another review, interview, live show or anything else. Cheers.