Featured
Interviews
Engorge Interview With Kyle Powell
Engorge is a wicked death/black metal band and I recently fired off some questions to singer Kyle Powell and here is what was said: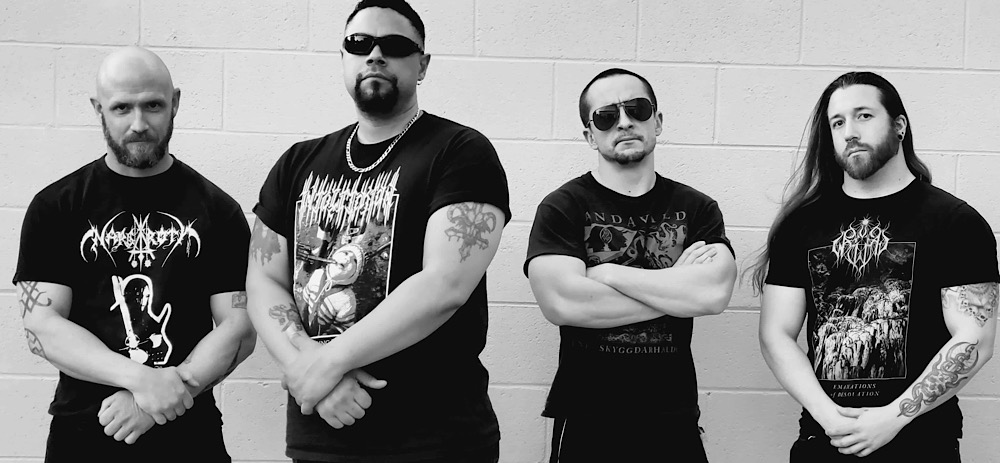 Where were you born and where did you grow up?
KP: Hello Chris! I was born and raised in Newark, NJ. Grew up in Orange, NJ until I left when I was 18.
Did you come from a big family or a small family?
KP: I come from an intermediate-sized family, especially now since many relatives have passed away over the last 20 years or so. We've been whittled down to just a handful, sadly. I am currently the Patriarch of my side of the family.
What sort of kid were you growing up?
KP: I was your typical 70s/80s kid. Howdy Doody, The Magic Garden, Romper Room, Sesame Street, The Electric Company, Tree House building, Skateboarding, BMX Ramp jumping kind of kid. Later years were Intellivision & Betamax movies.
We all played outside and explored the neighbouring fields, woods, roadways and abandoned structures. Made slingshots and water grenades. That whole era…
What did you want to be when you were growing up? What were some things you did for funEra…
KP: I always fancied doing something in the surgical field or some lumberjack type. One extreme to another! Later, I wanted to pursue a career in Law Enforcement but ended up enlisting in the USAF.
What were some of the early styles of music you heard, not metal, which we touch on shortly?
KP: My Father was into the Motown Sound, Blue Magic, Earth Wind & Fire and Latin Jazz so those types of vibes were in heavy rotation at full blast most times. I then found classic rock, Hendrix, Rush and Kraftwerk.
Now were you a lover of rock n roll at all during your younger years? What were some of the bands you liked and do you like any of them still?
KP: Jimi Hendrix, The Ink Spots, The Animals, The Doors, Steppenwolf, David Bowie and the like all found their way to my ears initially and yes, I still spin a record or two of their work today.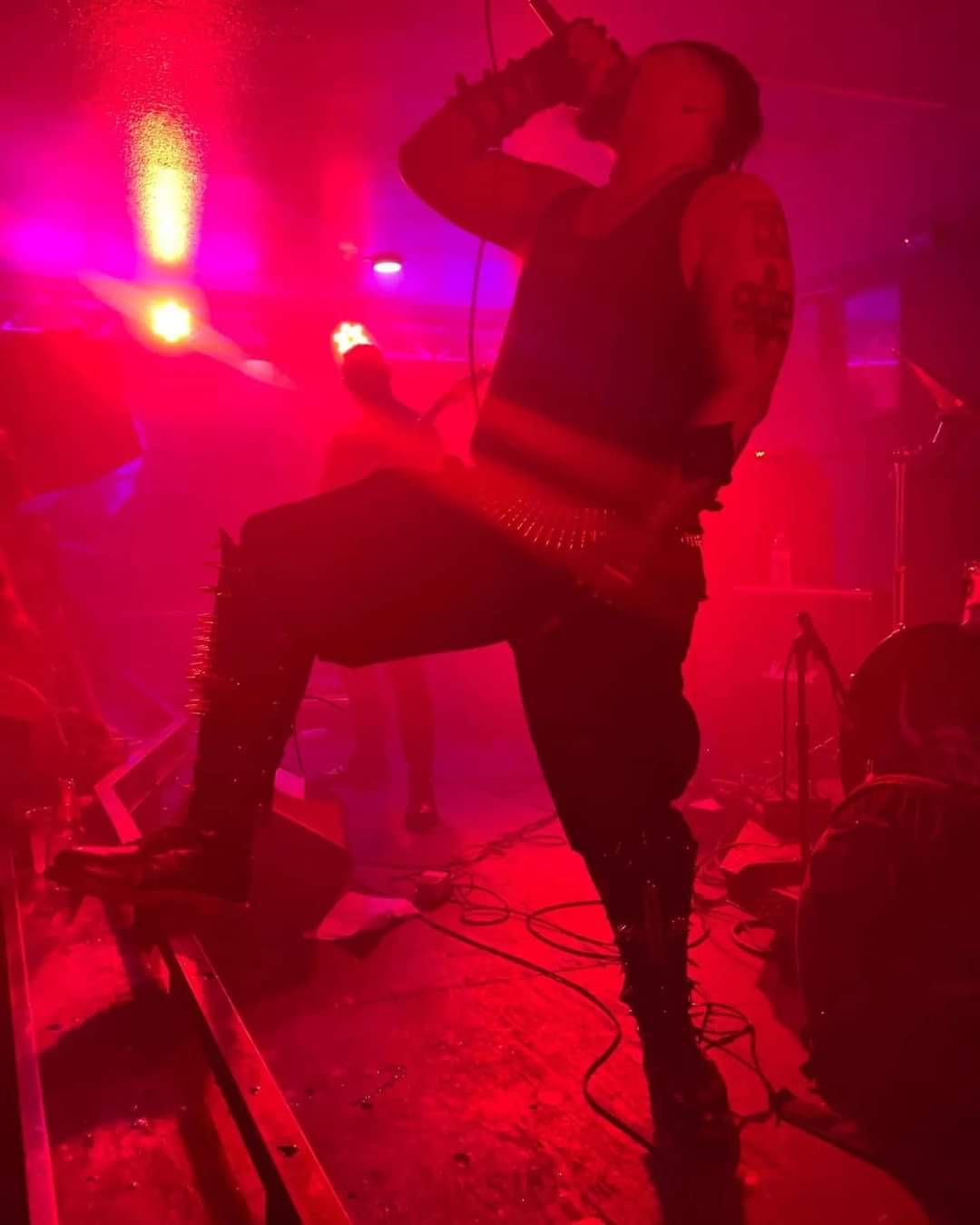 Now how did the ugly world ha ha of heavy metal fly into your world?
KP: 1985. Record World, West Orange, NJ. Essex Green Shopping Center. My mother would go to Sterns and I'd go to some of the boutique shops while she browsed. Record World was one of them. Stumbled upon CELTIC FROST – MORBID TALES LP. Bought it, solely based on the artwork/cover…and the rest, as they sat IS HISTORY!!
So what were some of the other groups you got into early on? Did you ever go into NY to go to any of the record stores over there? How about the now sadly just-closed Vintage Vinyl in Woodbridge, NJ?
KP: Art Of Noise, Gary Numan, Oingo Boingo, Sacred Reich,? & The Mysterians, Dr Buzzards Original Savannah Band, Budgie, Witchfinder General & Bobby Rodriguez Y La Campania were some early listens, for sure. I used to go to Bleecker Bobs, religiously until they closed all of the rock/metal speciality shops in Greenwich Village, way back when. I'd been going to Vintage Vinyl from 1991 until they closed, whenever I came to town. There will never be another place like that! Their used section was LEGENDARY! (place was unreal I went there too many times to count and sad they closed-chris).
How much fun was record hunting back then? Don't you think it is a shame in some ways that today's generation will never get to experience those days?
KP: Today's generation is a bunch of poofters who would never deserve or appreciate the nostalgia that guys like us experienced when it came to record hunting BEFORE the advent of the internet. You had to have passion and conviction to seek out the zines and articles that would barely advertise a record release THEN hunt that record down via swap meets, distributors or places like Vintage Vinyl. Today's generation wants everything fast & friendly and that honestly goes against every principle of how we used to obtain music back then. If they call that "gatekeeping", then so be it. They suck! lol
Now did you do any tape trading? If so did you trade with a lot or just a few people?
KP: Yes! Tape trading was how you got new music from ALL OVER the world back then. I would usually see those little blurbs in the back of zines or underground periodicals, send the $5 and the IRC and would be giddy waiting for whatever showed up in the mail. I sent a lot of IRCs to South America, Germany, the UK & Canada back then. Individually, I would trade with a handful of people from California and Pennsylvania.
What were some of your favourite underground bands back then? Do you still like any of them even today?
KP: LEPRA was definitely my favorite underground band back then along with VON, Dead Horse & Sarcastic from Brazil.
Now what was the 1st arena show you went to and the first club show you went to?
KP: 1986, Ozzy Osbourne & Metallica was my 1st big arena show. Scared the shit out of me but if you didn't go, you were a poser!
I know you told me you moved when you were 18, I assume then you never got to see a show at the famous Lamour's Club in Brooklyn, NY or did you?
KP: Moved out of my parent's house when I was 18 into my own apartment and yes, I got to see many shows at L'amour, The Rock Capitol Of Brooklyn and in later years, got to perform there 3 times. Once opening for Deicide, once for Marduk & once for Destroyer 666. Also went to shows at Alcatraz, CBGBs, The Ritz & The Spiral in the city. Used to go to The Birch Hill. Club Bene, Mothers & Studio1 in NJ, G'Willickers in Pennsylvania.
So you moved away from NJ when you were 18. Where did you move to? Were you sad to leave NJ or was it time to go?
KP: I moved out of my parent's home at 18, left NJ in 1992 for the USAF and was very sad to go because NJ has THE BEST food in the world.
So now what were some of your favorite styles of underground music that you liked back then?
KP: Back then, it was the advent of the 1st Wave of Death Metal & 1st wave of Black Metal for me. I had found Venom, Morbid Angel, Hellhammer & Bathory cassettes at a local place called The Union Flea Market. Outside of that, I listened to classic rock & hardcore punk back in the early/mid-eighties.
Do you read many fanzines back then?
KP: Fanzines were hard to come by unless you knew where to look, in the late 80s/early 90s. I found a lot of fanzines left at record stores and on vendor tables at St. Marks Place in NYC. Sometimes when you would tape trade with someone, they would include a fanzine from their region, which was always cool. I also read Metal Maniacs & PIT back then.
Did you ever wanna play any instruments back then?
KP: As long as I could remember, I always wanted to be a vocalist but ended up playing guitar in a punk band called Mouthful O' Smegma in 85-86 and later in the 90s, drums for Apotheosis, Nebula 666 & Mortician. I played saxophone in middle school.
So now how did the coming of Engorge come together? Where were you living at the time? Did you go through many line-up changes before you recorded your debut 3 song demo called "The Winter of Pathological Hate" on Eviscerated Records?
KP: Engorge rose from the ashes of Fragmentation, a band I had while I was in the Air Force. Once I separated and came home, I wanted to keep Fragmentation going and put an ad in a local North Jersey music periodical and found people in and around NJ to rehearse with. The lineup changes have been many, as I am the ONLY original member left in Engorge. Our roster of past musicians on Metal Archives is quite vast! "The Winter of Pathological Hate" demo was Me, Bill Vesey/drums, Mike Boyce/guitar & Ronnie Deo/bass (R.I.P) and was recorded live in Rahway, NJ at Quality Sound Rehearsal Studios. Eviscerated Records is the label that I started during the Fragmentation days.
Did you know early on your vision for the band? By that I mean the sound of the band, what the lyrics are about, etc?
KP: I was HEAVILY influenced by Celtic Frost, Cannibal Corpse, Autopsy & later, Darkthrone so in those inception days, I imagined the band steeped enormously in necromancy & misogyny. The sound was heavy and distorted & the imagery & lyrics almost solely dealt with sexual prowess, necrophilia, devilry & mysticism…so we always went for the most ethereal yet bludgeoning sound we could muster. Not much has changed.
Now when you were putting the band together did you immediately tell the other band members you were gonna be the singer?
KP: I was asked to be the singer of Engorge when the guy that the other members initially tried out wanted to be more of a stomp metal/whigger approach in his delivery. We were looking for a more blackened death metal approach then and I had more of an idea of what that was all about.
How good of a singer do you think you are and who are some of your favorite singers?
KP: As I stated, my main influence was Tom G Warrior, which I feel I could never compare to but as for my vocals developing over these last 30 years or so, I feel I'm one of the more audible yet bombastic singers out there in Underground Metal. Others may disagree but no one can do what I do. As for favourite singers outside of Tom G. Warrior, there would be Chris Reifert (Autopsy), Shawn Calizo (VON), Nocturno Culto (Darkthrone), Dave Brockie (GWAR), Nuclear Holocausto Vengeance (Beherit), K.K. Warslut (Destroyer 666), Damon Bloodstorm (Bestial Warlust), Mikael Nox (Craft), David Vincent (Morbid Angel), Rainer Landfermann (Bethlehem), Chris Barnes (Cannibal Corpse), Lemmy Kilmister (Motorhead) & David Ingram (Void Meditation Cult). There's a ton more but these singers are tops for me.
What do you think of your debut EP these days and how did you hook up with Eviscerated Records? How was the response to it from within the underground at the time?
K[: Eviscerated Records, Inc. is MY record label that I release my material on. I knew no one else would release my stuff! LOL Our debut EP was a test for that moment in time. A lot of turmoil, schism & 5LB cocks in the room. Ultimately, if you own a copy, it's ultra rare as only 50 were put out and when I'm dead, then MAYBE, it will be worth a few bucks.
Now 3 years later, you put out a demo, a full-length no less called "Enchanted by the Battles of Azazel". How do you feel it differs from your debut EP? Did the band have a whole new line-up at this time?
KP: That demo/full-length would end up being the crowning achievement and pinnacle for the band at that point in time. That lineup dissolved shortly after that and I found other members from both NYC, NJ & PA that would record the next release. We plan to re-release Enchanted By The Battles Of Azazel on digital and 12-inch later in 2023, for the die-hards.
How easy was it going in and writing songs for this release? Now I would assume since you sing, you do the lyrics, but who writes the music?
KP: The guys would write the music based on any ideas I had. I would then write the lyrics. Back in those days, that's pretty much how it went. Music first, lyrics 2nd. It seemed to be a simple process back then as long as we kept our egos in check.
Now when most bands release demos, even more so back when this release came out, there were 3-4, maybe 5 tunes on a demo. Why a full length?
KP: It being a full length just worked out that way, even though we initially called in a demo. We would play all the songs live and then give the demo away at shows back then.
I am sure you knew all about fanzines and college radio etc. at the time. Did you send the demo out everywhere to get reviewed? How were the reviews?
KP: I sent that demo everywhere and as far as I know, it never got picked up, played, reviewed..to my knowledge. There was a lot of Underground activity back then. A lot of competition. It wasn't until I got acquainted with the staff at WSOU at Seton Hall, did any of my releases got played, interestingly enough.
Looking back, what was the biggest difference you would say with the 2 releases?
KP: Two different lineups. Different inputs. Different attitudes. Different influences. If you listen to both, you can hear the progression or regression, depending on your perspective.
Did you get to play live much and who were some of the bands you shared the stage with?
KP: We played out as much as we could. The list of headline acts we played with back then was quite diverse. We did quite a bit of shows at Obsessions in Randolph, NJ, Backstreets, in N. Haledon, NJ, Connections, in Passaic, NJ & L'amour, in Brooklyn, NY.
Deicide, Dark Funeral, Mortician, Dimmu Borgir, Broken Hope, Destroyer 666, Sadistic Intent, Anal Cunt were some of the nationals and just about every local metal band in the tri-state area shared the stage with us. It was a wild time.
Now before we go any further, Eviscerated Records, you mentioned that was your label. Have you only released your band's material on it or have you released other band's music on it? If you haven't would you in the future or is it not even worth it with not many people buying music these days?
KP: I've only released my material on Eviscerated Records. I've had many bands approach me about releasing their material but if you're going to do something and do it right, it's imperative to have the right tools…especially if you have a client that is counting on you. Eviscerated Records is very DiY for Engorge and I feel the proper energy wouldn't be as abundant with the focus on another entity at this point in time.
Now you mentioned Lamour's in Brooklyn, NY and playing there. Who did you play with and what was it like playing that legendary club?
KP: I organized 2 shows at L'amour back in the early 2000s, right after 9/11. Destruction Festivals with Destroyer 666 (their first U.S. appearances), Sadistic Intent (their first East Coast appearances) and about 12 others, over 2 nights in both Clifton, NJ and at L'amour. The other shows I hosted were with Marduk, Deicide & Dark Funeral during that span of time.
Thoughts these days on your next release, which was called "Within the Realms of Blasphemous Fornication"? Did that help out the band's popularity at all at the time?
KP: lol…No, It didn't. No one has ever really cared about this band and that record was only 50 copies that we shopped to labels all over the country to no avail. It did, however, solidify our position in the USBM/USDM Scene.
Now you kept rolling right along as in 2001 another release came out, though this not a full length and was called "Necroinsemination". Why this title and who came up with the cover design?
KP: I came up with the title as Engorge is a very personal and very sexual and a very selfish embodiment of evil, malor & bravado in its motives. The artwork was actually in the public domain with its artist unknown to this day but I felt its depiction of the male essence was vastly apparent.
Now during this time did you even make any attempt to send your stuff out to any indie labels whether from the US or overseas?
KP: Yes, we sent out at least 100 of those EPs to various labels all over the world and finally, Dark Horizon Records picked us up based on its merits and individuality.
Did you feel at all around this time the sound of the band was pretty much where you wanted it to be? Now you were releasing stuff every year, was coming up with music and/or lyrics tough at all for you guys?
KP: I write all the lyrics for Engorge and my lyrics are basically one continuous story based on life experiences in a grounded but fantastical way. The sound definitely wasn't where I wanted or needed it to be due to the people I was working with at the time but everyone had a say and I wouldn't have it any other way but the hybrid sound I was looking for didn't come until much later.
Now in 2002, you hooked up with Dark Horizon Records and they released "Dead…Fuck…Blackness". Did they slide you a bit of cash to help with the recording or was this all on your own type of deal? Is this release still for sale?
KP: DFB was self-financed by myself and the Davila Brothers at Lion Tracks Studio, Union City, NJ.. DHR pressed up the record for us and gave it a global promotion at the time. That was the deal then. You can find copies on Discogs every now and again but it's long since been out of print and never repressed outside of a few digipaks that DHR did.
Now did having something out on a decent size indie label help you guys out at all? Death and black metal were pretty popular during this time so did you get to do any mini tours or many out-of-state shows at the time?
KP: We played shows constantly in the Tri-State Area, organized by me and a few mini-tours out to the Midwest & Southwest from 2001-2006 with Necrophagia, Mausoleum, Vital Remains, Abazagorath & a few others.
Now after releasing something every year for a couple of years, we didn't see anything new until 2005. What was the reason for that or did you just wanna take a break from releasing music at the time?
KP: I moved to the West Coast of California in 2005 right after the release of Cold…Black…Ejaculation slowed down things quite a bit.
So now when you moved was there any thought of just ending the band or you knew at some point you were starting the band back up with new members?
KP: No. That was never in the equation to end the band. At that point in time, the band was bi-coastal, in that, I lived in California and the rest of the band was in NJ. Whenever we had shows or a tour scheduled, they'd rehearse without me, I'd fly in…we'd all rehearse the set once or twice and then go hit it. It worked this way for over a decade until about 2013.
So now the 2006 EP called, "Ravenous Horde of Darkened Gods", was that recorded while you were on the East Coast or was that on the West Coast with new members?
KP: Ravenous Horde of Darkened Gods was recorded at Neanderthal Studio, in S. Plainfield, NJ with the existing members of ENGORGE at that time. Myself, Jim Roe, Jon Hasselbrink & Matt Dillon. Again, the music was written, rehearsed and recorded once I came to town and self-released later that year on Eviscerated Records. Hail the DIY Hordes!
So now what did you do with yourself from 2006 from the EP release until 2012? Did you get any offers to sing in any other bands at the time?
KP: I did vocals for 2 side projects/tribute/2nd Wave BM bands. Ravnajuv & Acidwinter. These were collaborations with a now deceased ENGORGE band member named Dan Kirchdoerfer (R.I.P). he was the lead vocalist and guitarist for PA Symphonic BM band, ALGOL & lead guitarist of ENGORGE from 2006-2007. There was a West Coast mini-tour for RAVNAJUV with NIGHTBRINGER & NAZUL in 2010 and then once Dan passed, there were 2 benefit shows for him under the ACIDWINTER banner in 2014 & 2017. So, I kept busy when Engorge was dormant.
What would you say were the biggest differences in fans of the Underground from the East Coast to the West Coast? Were there bigger or smaller crowds?
KP: The Satanic Hispanics on both the East & West Coast make up 85% of the USBM/USDM scene. The West Coast definitely has more Hispanics so the shows out there get pretty intense though the Underground shows back east yielded impressive crowds of mixed attendees, the way the scene should be.
Now you were back with a new release in 2012 called "Demonic Omnipotent Barbarism". Now correct me if I'm wrong were you still on and are to this day on the West Coast or did you come back to the East Coast at some point? What was the line-up for this release? Do you feel the band's sound has changed after being away for so long?
KP: I live in California but of course came back to New Jersey in early 2012 to record D.O.B. with the Boys after we wrote, rehearsed & recorded the music. This release saw Myself, Jim Roe & Matt Dillon on it. This was the release that raised the bar for Engorge 1000 fold and pretty much what our current material is based on. The sound had gotten more focused, sharpened & aggressive for sure. When you have Jim Roe playing drums, it kind of makes everything that much more ferocious. The man is an alchemist, in every respect. The sound had changed but the groundwork laid down in the 90s was still present. Blackened Death Metal with groove, speed and ferocity.
Now did you manage to play many shows around this release? What were crowds like for the band this time around?
KP: We played an East Coast mini-tour for this release in 2012 and then another East Coast mini-tour with Mausoleum in 2014. Support was phenomenal and a lot of people came out that I hadn't seen in over a decade. Both tours were successful…but the band would soon go dormant until 2015.
Now I know at some point you started to become a promoter and started a fest called "VENGEANCE FESTIVAL". Have these taken place on the East and West Coasts? How have they done for you?
KP: K.E.P PRODUCTIONS was started in 1994 in Riverside, CA. and continues to this day. VENGEANCE FESTIVAL is just one banner that I've flown for the Underground since then. Others are THE RETURN OF DARKNESS & EVIL FESTIVAL, BLACK XXXMAS FESTIVAL, AUTUMN EQUINOX FESTIVAL, SUMMER OF EVIL FESTIVAL, DESTRUCTION FESTIVAL, HORDES OF DARKNESS FESTIVAL & more recently, THE RISE OF THE BLACK SUN FESTIVAL, which was a collaborative effort with myself and 3 other promoters. VENGEANCE FESTIVAL has been widely successful due to the current "cancel culture" movement happening globally. It's a sand-covered fist into the vagina of Antifa, the Left & censorship in general.
So now you didn't release anything from 2012 till 2022. Now what did you do as a band over those 10 years besides those shows you mentioned earlier? What did you do yourself? Was there any thought at all of just putting the band to rest or was it you wanted to take a rest, but the rest turned out longer than you thought, especially with COVID being a pain in the ass?
KP: There was NEVER talk of ending the band. We played select shows/Fests during this time but I had been rebuilding the lineup slowly. I was contracting for an agency in Afghanistan and then Jordan and Iraq and did a bit of travelling during this downtime. So naturally the band was a bit dormant.
It ultimately proved difficult to replace Jim (Roe) with a drummer that had his ferocity and power so that was quite a damper for a few years as well.
The ball started rolling in 2020, thankfully with the session member help from my Brothers in Manticore/Typhus. They helped me shake the rust off and put the band in production mode.
So now when did you start to gather material/music that would end up on your 2022 release "Bereft of Lordship"? How long did it take until you pretty much had all the music and lyrics together?
KP: "Bereft" was a lost recording from 2006 that ultimately was recorded, shelved and forgotten due to Flux in the band at that time with a lineup change after the "Harvesting The Dead" U.S. tour with Necrophagia.
I had written 90% of that material back in 2003-2005 and it was basically ready to go. We decided to record it after the tour.
I found it last year, contacted Jim and we decided to finally release it after he cleaned it up a bit.
With you being on the West Coast and with COVID being a really big deal at one point, did that delay the release of the CD much?
KP: No, it didn't. Covid didn't stop me or the band in any way, actually. I live on the West Coast and never had either. With proper planning and logistics, we've always been able to get things done.
CD pressers online helped out a lot. You can do just about anything online without coming in contact with any human presence nowadays.
Who did the cover for the release? Did it come out on vinyl?
KP: The artwork was done by our then artist, Jon Costa…who has since been MIA…lol
The layout was executed by Mr. Roe himself. We almost always keep things condensed and tight within the band's hands and very rarely use outside entities.
There is no plan for a vinyl release at this time for this particular outing.
Now have you been able to play many live shows now that COVID is over thank god?
KP: I did Vengeance Fest 5, at the height of COVID, in NJ, outdoors without incident, in 2021. Covid wasn't really a factor in any way for us as we kept things Underground.
Since the government is more concerned about the proper use of pronouns as of late and not COVID-19, we've played a few shows on the West Coast last year and have several planned this year including our 1st shows in Europe.
How do you guys think you are as a live act and are any shows up on YouTube?
KP: There are lots of old shows and recent clips on YouTube. Engorge live, is, let's just say…bloody and visceral. People tend to enjoy that.
What are your plans going into the rest of 2023 and also for the band?
KP: We will be releasing a new demo and EP in 2023 and will be recording a full-length this Fall/Winter. Jim Roe at Neanderthal Studio will be mixing it, as we will be recording tracks in California with Patriarchy Sound 1st. As for the band, definitely more live events and rabblerousing to piss off Antifa and the like.
Please plug any social media sites you have anywhere can people pick up your releases and are any available overseas by chance?

You can find us on Facebook, mainly, sadly…lol
Our music is on Spotify and likes as well. You can always track our live events on the K.E.P PRODUCTIONS Facebook page as well.
https://www.facebook.com/TrueNecroBlackDeathMetal
As for the European market, I have contracts or licensing agreements with anyone. Engorge has always proliferated as a "word of mouth" type of thing.
So tell me about this European tour you're going on soon. Who are you playing with and around how many dates?
KP: The PANDEMONIUM OVER EUROPE MINI TOUR is slated for October 19th, 20th & 21st in both the Netherlands and Germany.
The tour comprises ENGORGE, TSJUSTER (NL) & INFINITY (NL), though INFINITY is only playing one of the dates. We will be joined by MAGGOTS (GER) on October 21st in Berlin.
The tour originally was supposed to be comprised of ENGORGE & STANDVAST (NL) but they disbanded some months ago during the planning stages and TSJUSTER & INFINITY were added.
This tour is in direct support of our new release "Demonstratio Diaboli" which was released on April 12th of 2023 on Eviscerated Records. We will be playing in GRONINGEN, NL, ARNHEM, NL & BERLIN, GERMANY.
A really fast run.
Kyle horns up for doing this interview. Any last words the floor is yours?
KP: Forbes, I thank you for the interview. It's been a long time coming. I appreciate your support and the support of our fans these last 28 years or so.
The American Way Of Life is under attack by the very people we pay to protect and serve us and if everyone doesn't pull their head out of their ass, the principles under which our country was founded, will come to an end.
This is a crucial time in our history. Our children and families will suffer for the next 6 generations if we don't hold those in power accountable for lining their pockets with money and blood. FACT. Patriots and Nationalists…UNITE! Doesn't matter the color of your skin. Only what's in your heart, matters.
China & Russia have united to destroy us but somehow drag queen reading hour for our kids is a priority in this country. UNFUCKINGREAL.
A Big FUCK OFF to self serving politicians on the Left & Right, the BLM movement, pink haired sjw pedophile cucks and those who laud communism/socialism because they are too lazy to work and think for themselves…and can't read a history book.
Fuck off to ALL North Jersey whiggers and everyone that ever talked shit on me or the band for no reason at all. I'VE ONLY JUST BEGUN TO PISS YOU OFF!!
TO ALL OUR DETRACTORS…ALWAYS REMEMBER…
YOU ARE THE SHEEP. WE ARE THE WOLVES!!!
WORLD WITHOUT END… – K.E.P