European Rampage [email protected],Hungary 2009
Your new album, "The Eternal Return" came out on 23 June on Victory Records. How would you describe the record?
Paul Burnette (bass): It's brutal, fast, melodic… Brutal… Sounds like Darkest Hour… It definitely has some "The Mark Of The Judas", some "Hidden Hand Of A Sadist Nation" and some "Undoing Ruin".
Mike Schleibaum (guitar): First of all, it's a sick ass record with my man Mike "Lonestar" Carrigan (the other Darkest Hour guitarist) playing some sick lead guitar and Paul Burnette laying down some dope bass… I always think of it as the best combination of all the Darkest Hour sounds that we've been experimenting with in a new, almost grown up sound. It has the enegry of "The Mark Of The Judas" record, the speed and tonality of "Sadist Nation", the songwriting of "Undoing Ruin" and the technicality everyone's allowed to offer. Instead of pushing the sound in a different direction like we did every time, we found the way to push it in one direction that felt right and that was kinda like an amalgamation of all the ones in the past.
People often call Darkest Hour a "punk / thrash" band. Do you agree with that?
Paul: We definitely have a punk attitude. Some of the songs have some punk in them mixed in but we have some thrash in there, too.
Mike: I think the band has evolved from a really, really punk band to a much more metal punk hybrid. But it's definitely an evolving process. I mean calling the band a punk / thrash band? Sure! It depends how tightly you define things. But at the same time, we played shows with Dillinger Four and Anthrax. So I guess we MUST be punk and thrash, ha ha! But it's obviously more metal. The Devin Townsend years shaped the band into a more metallic sounding direction and I think we're getting back to the mix of both.
Speaking of Devin, you've worked with Brian McTernan again. What is the difference between the two guys?
Paul: We did two records with Devin and we learned a lot. I think we became better players and better in the studio, too. So we went back with Brian McTernan who we have worked with years before and we brought pieces of what we learned from recording with Devin with us to the studio.
What are Brian's best references? Which bands has he worked with?
Mike: Thrice, Cave In, Senses Fail, Circa Survive – just to name a few bid American bands. He's not very well known for metal records, he just has a different approach. We learned a ton of things and Brian learned a lot since we recorded with him the first time so this time it was a much different experience for sure.
Hungary is one of the European countries the band has very special connections to…
Mike: Yeah, we love Hungary! We feel there is a very special kinda connection because the first time we came to Europe we took a Hungarian band named Dawncore and we made a bunch of friends doing that. Over the years, touring changes as the band gets bigger but we remember the people we met. In Hungary, it's cool to see so much old friends and it's a beautiful place.
Paul: Budapest is like our European home town. Feels like family.
Mike: One time, we were playing on stage and I seriously think ther was the hottest girl I have ever seen stage right. I was playing guitar and thinking "This girl can't like death metal. She's too hot. She doesn't know what's happening and she thinks we're all insane." Ha ha! And at that moment I got hit over the head with an umbrella. This dudette done the stagedive with that umbrella! I forget shows but I'll never forget the guy crowd surfing with the umbrella open and the girl that shit not have been into death metal. That's the most memorable moment of the Hungarians that I've got. Checking out a girl and getting hit with an umbrella.
A few years ago, you did a European tour with Himsa. Was it unexpected for you to find out about Himsa's split after that tour?
Paul: We kinda saw it coming. It's sad, they were a good band.
Mike: Things change when you get older. Himsa was an awesome band that people really understood and loved in Europe – but in the US, they didn't get the respect that they deserved so they decided to call it quits. They were a sick band and we had a good time on that tour.
Otherwise, what are the things that have recently changed or are about to change nowadays in the States?
Mike: It's a crazy place. We had eight years of a crazy tyrant of a president doing the worst job of presenting what we, the actual Americans think about anything. We live in a place now where you're not as embarrassed to say you're an Amercian. I mean for eight years, I was pretty much embarrassed, especially when I thought of Washington D.C. It was really brutal. Now I'm kinda excited about the potential of things that can come from a president who talks and doesn't say things that make me wanna throw bricks in the TV… I mean, I'm not saying that we're now free of all problems beacuse it's a very complex system but I think the rest of the world should rest assured that this is less crazy than that other dude… So we just missed a huge atomic war… Hopefully, things will turn around for everybody in the world.
To what extent you can feel the impact of the recession in the music business?
Mike: Well, people have been buying CDs from us for a long time. When gas prices were high, that was really hard to be in a band. But A benzinárak mondjuk tényleg eléggé felmentek egy időben, és ez nem könnyítette meg a the reality is that people like music, they care about the bands and they still come. It's definitely very hard for us to make a living of the band so we appreciate it when people spend money and buy a t-shirt or a CD.
Paul: I think entertainment business is a little bit different from any other occupations. There are always people who want entertainment. It's just whether they can afford to spend money on it.
Mike: Yeah, I can tell you that when you spend money on a Darkest Hour concert, that money goes to somebody in this band in some way to make this band happen. But if you buy records, it's hard to say where the money goes and I understand why people steal them. They don't trust record labels as no-one else for years – and they don't trust the bands 'cause they think everyone's a rock star. But I'll tell you that pretty much every band we know, no matter how big you think they are, struggle to make that business survive. So when people spend money and help a band out it's a good thing.
Do you trust your own record label?
Mike: Oh hell no… I would say no. But music business is so twisted, it's hard to know who to trust. You've got to have this self-centered, kinda protective mentality to survive.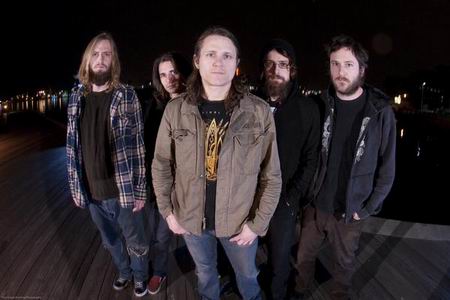 You've been in contract with Victory Records for many years, though.
Mike: That's true but when you sign a contract, it has an end date. Unfortunately, this one is really long. I'm not going to lie and say there aren't any great things about Victory but I'm not going to lie and say we're not excited to have a new beginning either… We singed the record deal before the internet existed, period.
What are your plans for the rest of the year?
Mike: You can expect awesome concerts. Hopefully, we'll be back in January… We're going to try to come to Europe a little more often than we have been in the past couple of years 'cause it's always a great place. So we'll be back. We always come.
Paul: Our bros are here so we always try to push to do it.
www.darkesthour.cc
www.myspace.com/darkesthour