Reviews
CURSE UPON A PRAYER – The Three Woes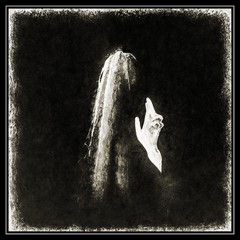 The Fins CURSE UPON A PRAYER are heard from again. After their last full-length cd "Rotten Tongues" in 2015 they now released their latest opus, the cd "The Three Woes in June 21st 2018. They received help from the label Saturnal Records.
The gents remain also here faithful of their musical motto. Superb Black Metal tones sound off my loudspeakers. The listener is abducted into dark musical worlds from the first note on. Kept in the mid tempo area the three songs captivate by richness in variety of speed without thereby leaving the original musical path. Cold as ice and flaming like hell here is broadly renounced of musical experiments.
And a good thing, too. Raw and pure songs emerge this way which doesn't miss the point! An ominous atmosphere develops which is hopeless and doleful. Conscious kept simple riffs reinforce loneliness and oppression. The grim growls give additionally the main points. The principle raw and simple without highspeed comes off here completely. Who likes traditional Black Metal should grab here regardless!!!!
9,7/10