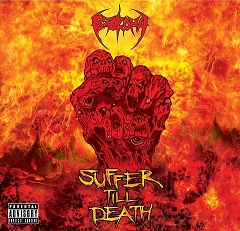 Self Album – 2013- Nepal
A further production from Nepal found its way into my electronic mailbox. I am talking about the band BIDROHA which published late last year their first full-length cd. It is called "Suffer Til Death" and was released in in-house production.
Here revives the Thrash Metal! Traditional and without any detours, straight into the listener's face! Screaming, diversified played guitar tones with a lot of street attitude cater for the necessary hardness and crudeness. The powerful drumming reinforces aggressiveness and primitiveness of "Suffer Til Death". BIDROHA proper accelerate without thereby sounding mindless. The all in all eight songs are very energetic and pour the charm of old Thrash Metal productions. You feel straight relegated into the good old days. However BIDROHA doesn't compromise. The gents know what they want musically and they are also able to implement it perfectly. Recorded with much blood. Sweat and tears I can only recommend BIDROHA to each Thrash Metal fan!!!!
8,7/10