Featured
Interviews
Deceased Interview with King Fowley
Deceased are just about to put out an incredible thrash tribute album called "Thrash Times at Ridgemont High" and I emailed off some questions for band member King Fowley to answer about this godly release:
Now, what led to you and the band deciding to do an all thrash metal covers album? How long as this been in the works before seeing the light of day so to speak? I read in the promo I got this has been in the works or you had an idea since 1996! Why did it take so long to turn it into reality?
KING: yeah it's been in my mind for 25 years already. it was all about timing. never the right time to sit down and do the full record of thrash covers. in 2020 with the covid crap stopping gigs pretty much for over a year there was time to do part 2 to our punk/hardcore covers 'rotten to the core series. and after we finished and things were still at a standstill in the world I got everyone locked in and we did it. the reason for doing it is the same as it was 25 years ago. thrash metal is an important part of deceased style and it's a big part of growing up listening to heavy metal.
Now how long did it take you to come up with the cute and funny album title "Thrash Times At Ridgemount High? Will there ever be shirts cause that album cover is a classic?
KING: it was in my mind 25 years ago as well. my goofy mind always tossing out oddball things. and yes there will be shirts! the art with high top Nikes was the motif from day one.
Now you and the band started off way back in the early days of thrash, when thrash was good and not the way it unfortunately became and then disappeared and then more recently made a comeback with some awful bands. Were you at all surprised at the way thrash went away back then?
KING: not really. many bands have followed trends and changed direction as the times changed. speaking for myself, I don't like thrash cuz it's hip or 'in'. I dig it cuz it's a ferocious and aggressive form of heavy metal. deceased has loved it since those classic 80s times. our first demo had the song 'sick thrash' on it for a reason!
Now when you decided to pick tunes for this, I knew you weren't going to go for Exodus, Testament, Death Angel, etc, the bigger bands that aren't in the Big 4 (i hate that term) and are on the bubble so to speak. You went for the real classic bands that hell is better than those bands in my book.(except for exodus) How hard was it to choose just 12? Did you have a list of say 20 and just narrowed it down to 15 and then 12?
KING: there could have been 50 if I wanted it to be. lots of bands we have covered already over the years (Slayer, Kreator, Sodom, etc) and I did want to dig a bit deeper than here's what you expect band 1 and 2 and 3… the 3 I knew would be on from the start were Whiplash whose "power and pain"' is the best thrash record ever made in my eyes, Razor cuz that 'take this torch' is an absolute favourite and Voivod thrashing rage' cu we're voivod fanatics and the title was so fitting. i never was into Metallica or testament or Megadeth or that stuff. even the bands that got inspiration from those types like stone which we cover in my opinion beat them at their own game with more conviction and power that work for me. we could have added so many more. but 12 were chosen and we just lined them up and let them fly.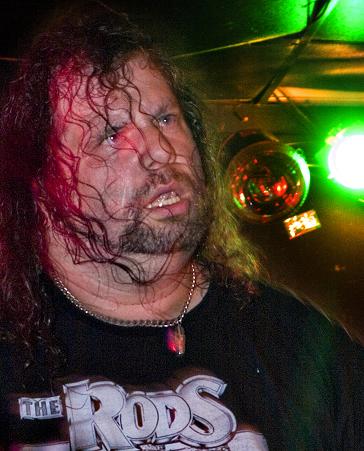 Now once you got the band's decided you were gonna do, how hard was it to pick out exactly which tune from each band to do?
KING: not really hard. In most bands, there's a favourite cut. if I was to pick the hardest for this it would of been deathwish with either 'in the name of god' from their debut or 'demon preacher', the title track if their second record. seeing the record track listing you see where that went.
Do any of the bands on this release, do they know about this release and which song you picked and have any of them heard any of their tunes on this by chance yet?
KING: Yes, voivod, cyclone, and others. they enjoyed the tunes.
How long were you in the studio for recording this godly release?
KING: We went a few times. the drums were cut in Georgia where our drummer lives. and the rest of it (guitars, bass, vocals, mix) in Maryland. The drums were done in late 2020 and then the guitars spring 21 and vocals added summer 21 as well as the mix. it was a quick but spread out recording experience.
Now obviously every one of the bands on this, each singer has his own vocal style as well as the music too. Did you try and create each song as your own, along with your vocals, without straying too far from the original tune itself?
KING: I didn't want to gurgle through it. I wanted to give the vibe of the original while giving some of my personality. I sure wasn't not going to do the long high screams of blessed death (ha ha-chris) or leave out the screams of razor or sacrifice. it's fine to make a song your own but we were going more in tribute to the songs with the release.
Did some of the 12 tunes, were some harder to sing than others?
KING: I just had to take into account each one for each one's voice and all that obviously the blessed death 12 second screams weren't as easy as the rigor mortis vocals, and some of it was harder technical. like the stone tune, which was probably the most technical thing on there. all of them had to be taken with their own personality.
Now I wanna get your opinions about each tune you did and why this particular band and song ok?
KING: 01 Spit On Your Grave [Whiplash] "power and pain" is the greatest thrash album ever. my all-time favourite. something from the record was gonna start the album and this tune is my track. 'message in blood' would have been my second choice.
02 Pray For Death [Blessed Death) brilliant thrash/speed record. larry's insane high screams and the bands total attack on you. just ferocious start to finish. not forgetting the whammy bar kill the guitar bits too.
03 Sacrifice [Sacrifice] is one of my all-time favourite thrash songs. that demo and debut record is superb. this song just is so well written and the attack of it was meant for inclusion on this release.
04 Get Stoned [Stone] more technical styled stuff and an odd song. so catchy of a chorus with some lyrics that being from Finnish vocabulary come off ridiculous. a kid finds he loves the crazy sound of thrash metal and joins the legions. the great bass line in this one.
05 Into the Universe [Artillery] 'fear of tomorrow is a perfect record. so many good cuts. this one with the rolling in a snare just hits on all cylinders. catchy and with cool changes within. one of the deceased's favourite records of 1985.
06 Take This Torch [Razor] sheepdog! one of my vocal faves growing up. those screams. just an early 80s ripper that wasn't not going to be included.
07 Thrashing Rage [Voivod] VOIVODDDDDDDDDDDDDDDDDDDDDDD. we love the 'rrroooaaarrr' record and the song was ready to be on a thrash tribute. talking to voivod about learning the riffs right was fun. dan the guitarist was saying how hard it is to figure out 'rrroooaaarrr' songs from the crazy over the top sound of it. but we did learn them right and we're damn proud of it.
08 Death Squad [Darkness] having recorded Kreator/Sodom covers in the past the Teutonic german thrash scene had many more to choose from. I love the debut darkness record and went with the title track. violent force, iron angel, there was so many to choose from. but we are happy going with this one. a straight-ahead, in your face, to the point thrasher.
09 In the Grip of Evil [Cyclone] Belgium greats. their debut record is so fucking raw in your face thrash material. love every moment of that record. how thrash should be to me.
10 Demons [Rigor Mortis] This almost was on our ep 'behind the mourner's veil' 20 years ago. great song from a great record. been wanting to cover this for decades. it was time!
11 Demon Preacher [Deathwish] I love the production of this record. just a damn ripping record. every track. the sabbath cover is intense! love the way he sings yet keeps it ugly too. a very underrated u.k thrash record.
12 Ilona (the Very Best) [Bulldozer] you don't do a thrash tribute record and do not include something from bulldozer "ix". you just don't!
Maybe your next covers release you can do an all demo band covers album haha? there are so many cover record ideas in my head.
KING: crazy stuff I'll keep to myself for now.
King I recently saw you live and the band never sounded better to me. How long do you think you can keep this going?
KING: thanks! super proud of the band. it's all system go. a lot of homework with how the world is these days. deceased will never be half-assed, EVER! no rent records, none of that shit. not everyone will go the band's existence distance. life is life. but I got 25 more years in me. let's goooooooooooooooooooooo
Going into 2022, what can we expect from you and any projects you're doing?
KING: new record is going to be written. it's called 'children of the morgue' it'll be out on hells headbangers when the time comes. it's a good way off but that's next. and a lot of gigs. time to get out and rattle some stages again.
If people want to order this fantastic album they should go where to get it?
KING: Hells headbangers site (www.hellsheadbangers.com) has it easiest. a no-nonsense professional unit over there.
Please plug any websites or social media pages you have?
KING: My Facebook page is where I go to yap and have fun. Kingsley king foley. it's easy and daily. there's a deceased page in there too. that's really it. my email is [email protected] if anyone wants to yap that way.
King horns up for doing this in what seems like forever any last words to wrap this up?
KING: Thanks for being you, Chris. metal is alive and well. everyone stay wild and ugly. fuck rockstars and greed pigs. long live music! up the tombstones!