Hi Alexander, would you please talk about Thornspawn and band members for the readers in Turkiye?
Hails to you and all Turkish Metal Warriors! This is Blackthorn of Thornspawn (USA) transmiting this interview from the cold depths of Temple of the Beast Studios. At this moment we are focusing on getting the line up songs for the upcoming mini tour "Death Riders of Heretical Dominance-Southeastern Europa Tour 2019". We had planned to do some shows in other parts of Southeastern Europa like Bulgaria, & central Europa like Czech Rep, Athens, but we shall focus only on Turkey & Romania. It has been some months that we have planned this & we are very happy that the demons from Sarinvomit have assisted us.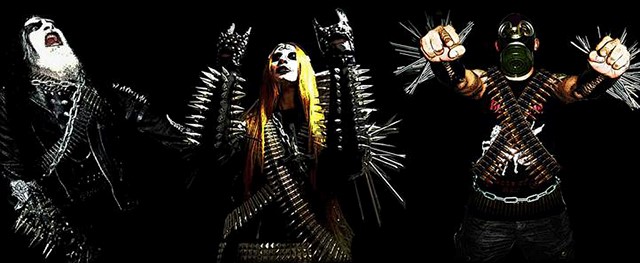 Thornspawn hadn't released any new product by 10 years since the last album "Sanctified by Satan's Blood" in 2008. OK, there are 4 splits and 1 compilation but there is no EP or album which contains any new song or title. Isn't it a very long period for the new songs? What is the reason?
The main reason why we have not released a full length was due mainly to label support. After our last album Desastrious Records decided to end its 15+ year label. We had shopped around our latest album but did not see much support by labels. Once we finally had the interest from a serious & professional label the songs that I planned to release did not signify the message that I conveyed at the time. Finally in the end 10 tracks were sent to the trash as I felt that it didnt represent Thornspawn at its best. Secondly after writing new material we finally had the label support and tried finding a reputable studio in my city to record these 9 new songs but all the studios in this city were total shit. Finally in the end it has taken me 2 years to gather the money and equipment necessary to build my own studio (TEMPLE OF THE BEAST) and now I am unchained & unlimited. 2019 shall see the release of "Coronation of the Supreme Beast"on Apocalyptic Empire Records (Norway)!
So in what progress are the new songs? Will the new album be released in 2019?
That is correct the new album shall be released in the Summer of 2019. It shall be mixed & mastered in Norway by the label surely. I will capture all the necessary possessions & morbid visions at my studio.
In fact in a different look, 2008 is the critical year for the album sales, may be after those years most of the bands quit releasing new albums with in short periods that the people do not buy albums like old times. Making EP and Split is much more logical than making Single. What do you think about this? There had been lots of things that have changed in the world since then…
When I began to release splits they were not based on the decision by labels or anyone else. I decided to focus on uniting forces with bands that I truly respectd & admired. Surely this of course is a benefit that mostly the fan can appreciate, getting more music & more band for your money. And since I was not ready or interseted in releasing a full length do to the label, studio debacle I wanted to keep the bands name in ciruclation by doing these splits.
You perform drums and vocals. Isn't it hard to do? There are lots of examples but most of the drummers had found new drummers and got the vocals by the time. Don't you plan to do like this also?
Playing drums & executing vocals was something that I didnt forsee myself doing. It was in the year 1997 after our vocalist decided to kill himself after the 1st demo that I was left with this responsibility. I will not say that it is easy or hard, but rather a state of possession that fuels my body to execute this most vicious attack. I had tried for a very short time (some tours and fests) playing bass and hiring a drummer, but it wasn't me. I felt that I needed to be behind the drums & still scream forth blasphemies. It is a duty I must fullfil at any cost, hiring new & permanent members is just not an option for me at this time, or ever.
Let's go back to the past times and in the years of the band establishment, Black Metal was much more popular in Northern European countries as well and in those years also communication was very tough. How was your first acquaintance with this type of metal? Your first acquaintance, bands that effected you and the the times that you had decided to establish the band?
At the age of 23 I had been involved in many bands of many genres playing drums & bass for. Metal has always been something that has followed me through out my life. I was not new to the game, as in 1985/86 I had my own band in high school named Xorgolontice that was mainly inspired by bands such as Hellhammer, Sodom, Bathory, and the like. So when I started digging deeper and deeper as I always do within the underground I came across a tape by the band Beherit. Which simply changed everything for me, it was something that spoke volumes to me. And I began creating musical patterns on drums & bass under the moniker of Baalberith. This project was something that I did on my own in the years 1991 to 1993, until I decided to recruit the others that would form Thornspawn. İt is very true that things were much different back then, before the internet invasion. Things were a lot more personable and private. Even writing letters was an adventure, and to wait for their return from distant lands with fello Metal Heathens.
You had done the organizatin management in a very important underground festival in Texas thru the 90s end and you had managed lots of important band to take stage. Let's talk about this organization some, Alexander.
"Sacrifice of the Nazarene Child-Black Metal Fest" began in 1998 with simply uniting the small amount of Texan Black Metal & Death Bands in my state. The turn out was about 80 people and to me that was a great outcome. The following year I had received a message from a guy who had told me that a friend had gone to my fest the past year and that what his friend told him seemed to be a festival that he would like to be part of. The only problem is that he didn't have a band, so I put him in contact with a local drummer/friend from a well known act named Absu. That year in 1999 being my second year of my festival was when Judas Iscariot played its only one time apperance in North America with Proscriptor of Absu on drums, and Lord Imperial of Krieg on bass. Soon after the word ran like wildfire through out the USBM movement and I began receiving tapes, cdrs of bands who wanted to be part of this festival that I held every December. Some of the bands through out its 10yrs of existence played my festival were: Sadistic Intent, Demoncy, Crimson Moon, Archgoat (first N. American apperance after their reunion), Absu (last show with original line up), Demonic Christ, Teratism, Black Witchery, Kult ov Azazel, Blood Storm, The Chasm, Krieg, Ourboros, Profanatica (first show after their 14yr reunion), Thornspawn, Midnight, Toxic Holocaust, Night Bringer, Gospel of the Horns, Cemetery Urn, Kathonik, Imprecation, Father Befouled, Prosanctus Inferi, and many other bands I cant remember at the moment. You may visit the festival tribute site for pictures, flyers, etc,etc on facebook under Sacrifice of the Nazarene Child-Black Metal Fest.
Now let's talk about Turkiye step of "Death Riders Of Heretical Dominance" 2019 East European Tour decision…
I had wanted to return to Europa since 2016 but had no solid contacts in organizing a tour. Those that organized tours of course wanted to make money and offered their services but with a fee. Naturally this meant that we had to pay the tour manager/production company daily in order for the expenses to be covered. I did not want to dilute this idea by making it a "business"venture. I wanted to play shows, meet local fans & metal heads, visit & study each countries culture, and enjoy the culinary art of their food & beverage. Being on a organized machined type of tour takes away from truly meeting and greeting your fans. Just playing a show, packing up, and traveling to the next city/country. So I decided to organize myself with the members of Sarinvomit and with their assistance we were able to book 3 shows with in Turkey with enough time to also visit its monuments & enjoy some time with good friends. Above all I believe that is what touring is about, not only the music but also the people and its culture.
Will you release Tour T-shirt, won't you? Because I'd like to purchase 🙂 You will bring merchandise, won't you?
I will be taking some merchandise yes, I am unaware of this day and age if people still buy merchandise at shows or simply go for the music & beer. But yes there is plans on releasing an official tour shirt in very small quantities. I believe that maybe it would be a good idea to contact me and reserve your copy so that I know how many to make. Do keep in mind that traveling with heavy luggage will cost money with the airplane companies. So IF you wish for a tshirt or cd dont hesitate to contact me at this address: [email protected] or through the band FB site.
A black metal performer might have a happy family and kids indeed… Ok, I am not jealous 🙂 It is an opposite situation that a misanthropic begot children,by the way let's talk about music and your real life. Is Black Metal an expression of inner passions for you? Or what does it mean for you, I'd like to ask this.
I must apologize to all that have had this misconcpetion of me as some ogre that lives in a dark dungeon feeding on the blood of angels. My practice, my will, my study in to the occult does not signify that I am a person that does not enjoy the fruits that life has to offer. What I mean is that yes I am a father, husband, son, brother yet that does not interupt or reflect who I am as an occultist and student of the dark arts. One may wish to be anti-human, anti-life, etc,etc. And that is their will, their decision, their interpreation of what a misanthropic voice should be. I for one enjoy the gifts that life has to offer, the food and its glutonose ways, the beverage and the wine. The pleasures of sex & its flesh. It could possibly that at my age I have seen just about everything under this sun, and I have nothing to prove or to say to that that wish to challenge my beliefs or my life. Black Metal shall always will be my first love, my first violent act against all foe, my art, my dagger! And its passion burns brighter, seven times hotter than the sun. If those who read these words do not understand or much less respect my point of view you are not a fireborn son.
Let's turn to the tour, we are waiting for April impatiently, what is your expectation about the Turkiye concerts? Have you had any inpression about here, are there any familiar bands of you?
I believe that there shall be those present who truly capture & understand the darkest essence & ancient feeling of the weapon known as Black Metal. Stripped down from all the hype, all the bragging, all the contraversey, and let the musical kaos that is BM roars unite us under one flag of hate. The layers of history involving Turkey & its cultural splendor has left many anxious to learn more of it in person. There are the demons of Sarinvomit, Malefic Order, Godslaying Hellblast, Horrorious, and some other bands that I hail as the black jewel of Turkia, Be Hailed!!!!
I thank you for the interview Alexander, for last what would you like to tell the magazine readers and BM listeners in Turkiye?
I look forward in meeting each and everyone on this tour. I am left with a great anticipation and intreague as to learn more of your magnificent country and history.
You may contact me at the following sites:
www.facebook.com/thornspawn
www.facebook.com/goddessofimpurityprod
www.facebook.com/officialmaledictvs