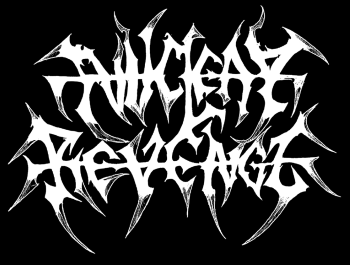 Nuclear Revenge is an awesome black/thrash metal band and here is an interview with singer/guitar player Cryptic Molestor.
Where were you born and where did you grow up? What sort of kid and teenager were you?
I was born in the 3th of August of 1996 in Vitoria Gasteiz, where I also grew up. I was just a normal teenager who spent nearly all of his money in CDs or bands T-shirts.
So now, how did you get into metal? How did you end up getting into underground metal and what were some early underground metal bands you liked?
I've always listened to classic rock due to my family, but when I got older, I started to get interested in harder music. The first CD I bought with my brother was "Face the Heat" from Scorpions. When I first heard that, I knew that was my thing. Some years later, I started to discover bands from internet, reading about them in blogs or listening to them in YouTube. That's when I started to get interested in underground metal. Some of the underground metal band I liked were Hallows Eve, Poison (Germany) or Violent Force.
Now when did even think about picking up the guitar? Did you ever take lessons or did you teach yourself?
I started to take lessons when I was 14 years old. I was really interested in playing the songs I used to listen.
Now you started to get into the underground and stuff, when did you start to get an idea to either form or join a band?
It was 2012 when we started with Nuclear Revenge. In that time, some of us didn't know how to play our instrument properly, but we wanted to play the music we liked. I remember that we always cover Sodom's "Remember the Fallen".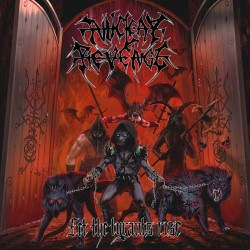 So did you go through many member changes before you came to the current line-up? How come you have so called stage names and how did you come up with yours?
We had some line-up changes over the years. We started as a trio for the recording of the first two demos, the split with Hated and the full length "Let The Tyrants Rise". Now we are a four-piece band with:
-Cryptic Molestor: vocals and guitars
-Pestilence Breeder: guitars
-Skullreaper: bass
-Speedhammer: drums
We use stage names because we want to express the same dark atmosphere that our music does and we don't think that that will happen with our real names.
Now how did lead to where you became the singer and how hard is it for you to play guitar and sing live?
I started singing cause we couldn't find anyone who fits with our music.At first, it was something difficult, but then, with practice, it gets easier.
So what were the early practices like? How soon until you started writing originals? How does a song come together?
On our first practices, we started playing Sodom or Kreator covers. When we came up with the sound we wanted we started writing our music. Normally, we started with a simple idea, a guitar riff for example, and then we start to add more elements. Usually lyrics are the last thing to include, but we normally have an idea of what the song will talk about.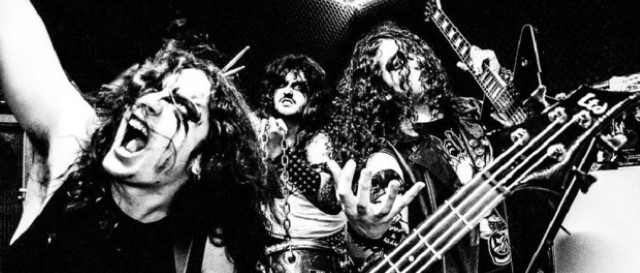 Now in December of 2013 you released a demo on cassette called "A Gate to Madness", which had 8 songs including 2 Sodom cover tunes. Where did you record it and what was it like going in the studio for the first time?
It was recorded on tape and both sides have the same songs. We recorded it with an old tape recorder some of our friend had, and we recorded it in our rehearsal room. We only made few copies just for us and some friends. We say that "Mayhemic Blitzkrieg" is our first proper demo.
Did you play any live shows during this time? If so, what was the response like?
We have played some shows after the release of our album, including a Spanish tour with Destroyer 666 as support. We also have planned more shows, like the Old Grave Fest in Bucuresti with bands like Blitzkrieg, Count Raven, Deathhammer or Obliteration among others.
Now who put together your logo and name of the band?
Someone came up with the name and we like it. At first, we had a different logo, but we change it for the album release, because we wanted something more professional.
Now in 2015, your 2nd release came out called "Mayhemic Blitzkrieg, which included 6 tunes, and intro and a Venom cover. What are your thoughts on this these days? Where did you go record it at? Did you send it to any labels and what was the overall feedback for this release like?
As I told before, we consider "Mayhemic Blitzkrieg" as our proper first release. We also recorded it in our rehearsal room. We made 100 copies and we sold them real quick, so we made another 50 copies for those who hadn't get it. We didn't send it to any label, but people from different countries asked for it.
Now what made you decide to pick the Venom cover of "Witching Hour"? Obviously the song rules, but how about a not so popular song by Venom?
Well, we recorded it because it's one of my favourite songs by them and we also play it live back then.
In 2016, a split came out on Eventhink Metal Records where you have 4 songs on. Are these new recordings? How did the label find you and what do you think of the other band on it Hated?
Two of those songs were new for that split, the other two also appears in the "Mayhemic Blitzkrieg" demo.We knew Eventhink Metal Records since they have released many good albums of Spanish metal. The idea of making a split started when we listened to Hated's single "Sleep Paralysis". We liked it and since our music style fits well, we decided to make it happen.
How was the response to it back then? Do you think with each release you were finding more of your style? Did you get to play many live shows around this release?
With that release, people started to know us. We got more shows booked and we played in a lot of different places. This split helped us to find our style, getting the sound we wanted for future releases.
Now is there a healthy metal scene in Spain where the shows are decent or well attended? How about places to play there? What is the farthest place you have played so far?
In my opinion, the metal scene in Spain is getting bigger and bigger. The are some metal clubs that promote underground metal. Thanks to them, we can see some underground bands, that big promoters aren't interested in. If we talk about places to play, you have both sides, some are overpriced venues and some are free. Unfortunately, there are more overpriced ones than free or cheap ones.For now, we haven't played abroad. The furthest place we have played was Granada, in the other side of Spain. Anyway, this October we are going to play in Romania, and hope it is the first of lots of gigs outside Spain.
Now in late 2018 came your 1st full length and latest release at the time of this interview called "Let the Tyrants Rise" on Evil Spell Records. How long did the song writing and music for this album go? Did the label give you a budget or did the recording come out of your pocket? Where did you record it at?
We recorded it at Moontower Studios in Barcelona. Nearly all of the extreme metal bands of Spain record their album there. The song writing took like a year, but some songs are entirely new for this recording and others are re-recorded, because we wanted to make them sound properly. This album came out of our pocket, but we have signed for another two albums with Evil Spell Records, which they will give us a budget.We recorded it at Moontower Studios in Barcelona. Nearly all of the extreme metal bands of Spain record their album there. The song writing took like a year, because some songs are entirely new and others are re-recorded, since we wanted to have them in the sound they deserve. This album came out of our pocket, but we have signed for another two albums with Evil Spell Records, which they will give us a budget.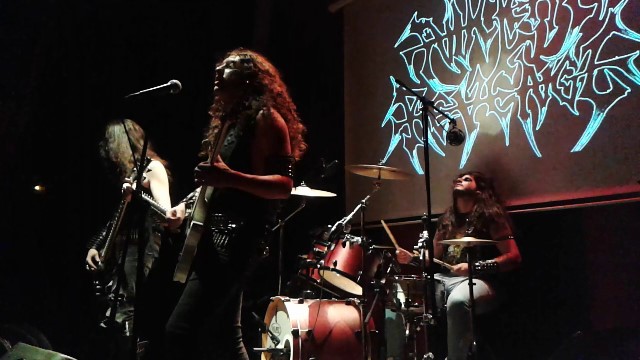 How has the response been to it? How happy is the label with it?
For now, we have received good reviews from all over the world. We hope that the label is happy with this release, since they are making a really good job.
I love the release. Now do you feel you are at least somewhat original and when do you think you found the "nuclear revenge" sound?
Thanks for that words. We think that we found our sound in this record. Maybe in future releases we'll add some different touches, but with the same Old School sound.
Yes, please keep that old school sound. Now what stuff do you have for sale and anything that is sold out, do you ever see it being re-issued ever or at all?
We have now for sale the album "Let The Tyrants Rise" in CD/LP, the last copies of the split with Hated and some T-shirts and patches. The "Mayhemic Blitzkrieg" demo and some T-shirt and patch designs are sold out. We don't think that we are going to re-release that stuff.
Please plug any social media sites you have.
Bandcamp | Facebook | Instagram
Horns up for the interview, any last words to wrap this up?
Thanks a lot for this interview! If anyone wants to contact us here is our mail: [email protected]