Reviews
HYPERDONTIA "Nexus of Teeth"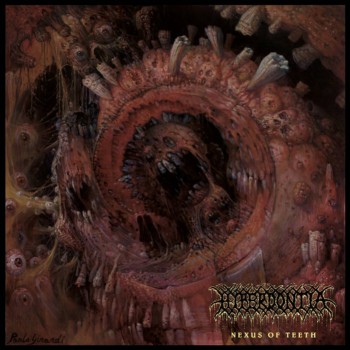 Think about two dedicated and creative death metal musicians from your country are working two foreign and shining names. These two musicians from your country attract the foreign ones with the magnificent records they have played in and as they work in the same music genre, they come together and form a band, then they release an international death metal gem. This is a thing that we all can be proud of, isn't it?
David Mikkelsen, –or with his nickname, Torturdød– who plays the guitar and holds the vocal duties of Undergang and Phrenelith and is popular in underground metal scene, cooperate with his fellow partner in Phrenelith, drummer Paweł "Tuna" Tunkiewicz; called out Mustafa Gürcalioğlu –can be known from his guitar duties in Decaying Purity, Engulfed and Diabolizer; an important name from our metal scene– and Malik Çamlıca –also an important musician from our metal scene, he is currently residing in Denmark– from Turkey, these 4 united in the name of "Hyperdontia", a death metal band established in 2015. In 2017, the band released a 3-track EP named "Abhorrence Veil" which is a great work with offending sound that attacks harshly to the listener. After this EP, Hyperdontia stated that they will release a full-length album in 2018, then this full-length became highly anticipated.
I was trembling when I heard the first single "Majesty", and with the second one named "Aura of Flies", I was counting the days. With these two singles, Hyperdontia progressed a little more forward in terms of their sound, they were more aggressive and more understandable. As Mikkelsen used a better vocal technique in these singles, I liked the growls in these two tracks and found them better than the EP. The day of September 6th finally came and somehow, I found myself listening to this record and I can say that this album beats you to death and then throws you in an open casket. Maybe this is not the record that buries you deep, but it's not necessary after you have thrown away in your grave.
Mustafa Gürcalioğlu made an excellent guitar work with less-repeating and rich, chunky riffs which surpass his past records. As he entered the scene with Decaying Purity in 2005, he began to write "riffs over 9000" –DragonBall joke– and in every new record, he progressed his guitar skills and today, this is the situation. Bassist Malik accompanies his longtime partner Mustafa with adding thickness to his riffs and boosting them very well, also adds a different taste with adding some nice attractions. Drummer Tuna places blast-beats inappropriate moments with such playing skills and comes forward with his excellent tempo management.
David Mikkelsen gives a birth to this record with his throat. He used a very deep growling technique and it's a bit better than EP's vocal sound. In EP, he had sung like Antti Boman from Demilich who can be remembered with his "burping vocals", but for the full-length, he uses a style as he used in Phrenelith, a sound which is more understandable and has a little higher frequency. As I stated before, that was the fact made me think that the full length is better. In the other hand, if this album had more aggressive vocals with middle frequency, –like LG Petrov's vocals in Left Hand Path album– this record could be my guilty pleasure. Lyrical themes include death, violence, torture and "chewing" which comes from band's name.
Recordings of guitar and bass parts of this album were recorded individually, vocals and drums are recorded by drummer Tuna. Mixing and mastering have also done by Tuna, with Dark Descent Records' touch, the listeners can hear a clear and understandable production. The cover artwork was painted by the famous Italian death metal painter, Paolo Girardi, which is a perfect work, also suitable for the band's concept.
To finalize, Undergang and Phrenelith are coming to Turkey with Hyperdontia in December, they will "chew" you to your death and I strongly recommend it, please don't miss them and attend their concert as they released a nice work which drags you slowly to your grave. This is an achievement we all can be proud of.
8/10