Reviews
ZIFIR/CULT OF ERINYES "Split"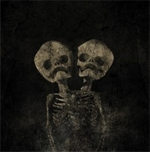 Tanquam Aegri Somnia – 2012 – Turkey/Belgium
ZIFIR from Turkey are heard from again. Namely in the form of a split cd with CULT OF ERINGES (From Belgium) which they published at the end of last year via Tanquam Aegri Somnia.
How does the music of ZIFIR sounds here? Pitch-black Black Metal resounds off my loudspeakers. Partially halting riffs manifest darkness and hopelessness. Thereby ZIFIR entrely relinguish of songs in high speed format. The gents let also several Doom Metal influences slip in in the mid tempo area which well accentuates the melancholic, depressive character of the songs. The screaming intense vocals reinforce loneliness and melancholy and gives the production identity. The songs are not easy to consume. They demand a lot of stamina from the listener. But, the dark, lonely musical path pays. ZIFIR offer depite of all gloominess variety and innovation. ZIFIR sound all in all musically more mature than at their previous productions.
CULT OF ERINYES also play Black Metal. Nevertheless the two bands are not the same. Here are made no experiments. Old School Black Metal which reached straight and without any detours the listeners' brain convolution. A mix of speed from sterling mid tempo through to upper speed passages make the songs variable and give also hardness. The very aggressive drumming yet reinforces this impression. Melodic riffs enter a bizarre beautiful symbiosis with coldness and darkness. The listener also needs here steady nerves and stamina. But, it's worth it!!
Both bands offer a good insight intothe musical variety of the BlackMetal genre. Buy the split cd. I can only recommend it !!!