Hammerheart Recods Press Release:
Wormed is probably one of the most respected death metal bands from Spain, a band with an undeniable worldwide projection who changed the way of understanding Death Metal itself, making their personal revolution when their debut album 'Planisphaerium' was released in 2003.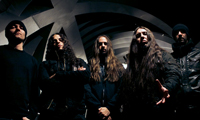 On March 26th 2013 their second full length called "Exodromos" will be out through Willowtip (USA) and Hammerheart Records (EU).
The new album was recorded at Sadman Studios in Madrid, Spain and mastered by Mika Jussila (Amorphis, Impaled Nazarene, Children of Bodom, Nightwish) at the famous Finnvox Studios, Helsinki, Finland.
Undoubtedly, this is one of the most innovative recordings ever written by Wormed. Ten tracks with an intense brutality, traveling at breakneck speeds, charged with dissonant dynamic riffing and tremendously overwhelming heaviness. The overall sound is sophisticated, sharp and more compact than the previous recordings. Every detail is perfectly calculated, and it's by far more technical than ever.
"Exodromos" is a prequel of "Planisphaerium"; the story tells about futuristic science concepts and chaotic visions of the last human left in cosmos, Krighsu. These are particularly in relation to the awakening of the "Chrym" once the last humans of the year 8K, called the Terrax, dissapeared, and the known universe was absorbed by a quantum wormhole in a inverted multi-vectorial reionization. Krighsu, will travel through xenoverses to found a new world with the human seed. The paradox: Krighsu is not the habitual human you all know.
Tracklist:
01. Nucleon
02. The Nonlocality Trilemma
03. Tautochrone
04. Solar Neutrinos
05. Multivectorial Reionization
06. Spacetime Ekleipsis Vorticity
07. Darkflow Quadrivium
08. Stellar Depopulation
09. Techkinox Wormhole
10. Xenoverse Discharger
Listen to the song by clicking
here
.