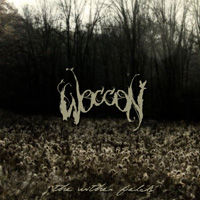 Deathbound Records announced the signing of WOCCON. Founded in Athens, Georgia by multi-instrumentalist, Tim Rowland (Sholfrost, ex-Peregrine), Woccon released an EP in the summer of 2011 titles, Through Ancestral Fires, which featured guest vocals by Ryan Morgan of Misery Signals. After self-releasing the EP Tim was joined by guitarist, Tiler Kuykendall and drummer, Wade Jones, to embark on a new musical direction in which they all shared influences and visions.
From blackened death metal to melodic doom, The Wither Fields will be availble as a limited physical release through Deathbound Records. Copies will be numbered and include two bonus tracks. The album will also be available digitally through all digital outlets.
You can listen to their track "Lament", on
Soundcloud
.