Reviews
WITHDRAWN "The Strongest Will"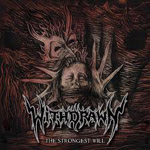 Great Dane Records – 2012 – France
Invading the scene from France, slashing and brutalizing all those in their path comes, Withdrawn. Two brothers have banded together to create Withdrawn-Christophe Helwin & Thyr (Otargos), in 2004, now with a steady line-up including: Michel Hoareau & Jerome Guellerin (ex-Bliss of Flesh), they have completed "The Strongest Will" recorded at Echoes Studio, mixed and mastered at Drudenhaus Studio.
"The Strongest Will" technical blackened death metal, pulverizing drumming, extraordinary rhythms, accomplished guitar work, and the vocals are crushing. All ten trax lead into another masterfully done tune, some of my favorites are: "Thy Decimator"-this tune is born to be a classic, awesome in every way, "Giant in the Shadow" very nice riffing, "Ignominious Shell", devastating rhythms, & "Anthem"-haunting guitar work.
Withdrawn is bound to go far with this work, I can't wait to see them on tour-so if they do a show near you, get out and support!
10/10