Reviews
WITH ALL THE RAGE "Yesterday…Now…Tomorrow…Ever"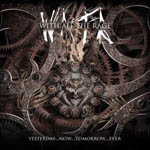 SG Records – 2012 – Italy
With SG Records, I'm listening many new Italian bands. With All the Rage is one of them, formed in 2010 and released a demo in 2011, and this album is their first full-length.
The bands genre is heavy/thrash metal in cooperation with groove metal. Vocals, guitar riffs, solos and the structure of musical composition are sound like old bands.
I can't find innovation much in their music. I can recommend this album who likes old-school stuff.
6/10