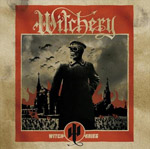 Century Media Records – 2010 – Sweden
Man, swell album. Full of evil and devilry, your godless metal heart is gonna flutter once Witchery cast their spell. A supergroup involving The Haunted guitarist Patrick jensen, Archenemy's Sharlee D'Angelo, Richard Corpse form Seance, this Martin Axe guy behind the kit, plus their newest addition Erik 'Legion' Hagstedt, who screamed blasphemies for Marduk in the 90s. Adding luster to an already impressive cast of musicians are a string of guest cameos—all guitarists—like Kerry (Fucking) King, the Exodus guys, King Diamond's Andy LaRocque, Hank Sherman, and Jim Durkin. If the sheer caliber of the personnel behind this blsiering "Witchkrieg" doesn't compel you to buy the album, why, then how about a rough guide across its ten hellraising tunes?
Opening track "Witchkrieg" gets the blood circulating faster as the band's patented formula of crushing riffs married to seismic thrash percussion paint an incendiary backdrop for Legion's venomous vocals. Hearing him scream "Witchkrieg!!!" at the chorus while the music boils along to a thunderous tempo is a glimpse of evil and armageddon hand-in-hand. Owing to their pedigree, the quintet don't let the momentum slip on succeeding tracks and this writer's all time favorites are "The God That Fell To Earth" whose slow grooving pace is welcome relief amid the loads of razr riffs that slice your ears every few minutes. However, if it's ear slicing you hanker for, head right over to "The Reaver." A brutal joyride blessed by a machinegun pace courtesy of the Gary Holt-Lee Altus guitar tandem. The song features a ball tingling extended guitar duel near its finish and without a doubt, it ranks among Witchery's most brilliant moments. Additionaly, genuine heavy metal crunch reigns supreme on chest thumping headbangers like "Conqueror's Return," "Devil Rides Out," and the infectious "From Dead To Worse." But it's on the album's last gasp that Witchery showcase the demonic class that lends an aura of violent fun to their necro-tinged repertoire. "Witch Hunter" is a speed metal ditty you wouldn't mind repeating several times over. It's fast, grim, epic, and pure Satan. In a word, iressistible.
Having gobbled every morself of "Witchkrieg," this writer recommends the material at hand to metalheads who want a melodic dish that's undiluted by gayness; an extreme album blessed by catchy hooks that are way too satanic for your AC/DC collection. "Witchkrieg" is the answer. It'd be a crime to miss it.
10/10