An interview with the German Thrash Metal Band Witchburner's singer Pino!
Hails Witchburner! First of all, i want to start with asking the earlier times of Witchburner. The band founded in 1992. How did the all members came up together and what made you start the band?
Hail! Pino here! When Witchburner started in 1992 it was a project of two people. Shortly after that Seegel joined, completed the line up and so Witchburner became a real band. He knew the other guys before from visiting concerts and Metal partys. Since then there were many line up changes. Seegel is the last remaining member from that time. After the release of "Blasphemic Assault" Andy S. became the new man on bass. They also knew Andy from his old band VEX. In 2002 Felix became the new drummer. Since 2002 the unholy trinity of Seegel, Andy S. and Felix is constant – this is the black pulse of Witchburner! From 2001-2011 several other members, on 2nd guitar and vocals, joined and and left again. 2011 Mächel and I became the new members and we are here to stay!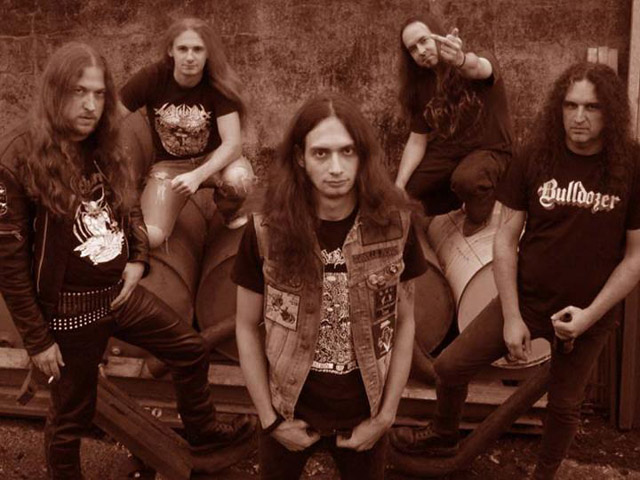 Germany has a popular view when it comes to Thrash Metal. There are many legendary oldschool thrash bands from Germany. Which bands have influenced you to create Witchburner? Are you also following the new thrash bands?
Yeah, we are really proud of the history of Teutonic Thrash Metal. One German Band who had a big influence on Withcburner is mighty SODOM! "Agent Orange" is still one of the greatest Thrash records ever! We don't like this "Thrash" hype of nowadays, but there are also some younger bands worth to listen to who keep the true spirit alive. Some of the new bands we are listening to are Witching Hour, Division Speed , Nocturnal Witch, Remains (Thailand), Inquisitor (Portugal), Iron Curtain (Spain) and Bonehunter (Finland).
Do the members have another bands/side projects except Witchburner?
Felix and Mächel are playing in a Iron Maiden Tribute Band called 667. We other memebers had our other bands and projects like VEX, Dangerous Force, Unscared but everything splitted up or is on ice now.
Let's start with the new album,Bloodthirsty Eyes.It will be released on February. Are you keeping the oldschool sound in the new album too?
The old school sound is the only way!!! "Bloodthirsty Eyes" is pure, aggressive Teutonic Thrash Metal the old way! No modern bullshit here!
You've released 'Possession' as the first song from the album. What are the critics from your fans, how are the reactions?
The most reactions were very positive. Some people said that they like the song but prefer the voice of the old singer. But this is normal when the singer of a band changes.
You've recorded the album with the new vocalist,Pino. How did you meet him? And for how long you've been playing together?
Me and the other members knew each other since a while before. We met each other from time to time on festivals like Keep it True, on concerts and on Witchburner gigs. After they kicked out the old singer they were searching for a new one. Carnivore (ex-Cruel Force), gave them the tip to ask me. So Seegel called me, I visited their rehearsal some days later, sang some songs, they liked it and I joined. This was in September 2011.


Who's doing the artworks of the covers? It's pretty cool again as the earlier ones.
It was again created by Jowita Kaminska. She is also responsible for all our cover artworks since "Final Detonation"! She has done a really great job. I think this is one of the best covers she has done for Witchburner. It looks excatly the way we wanted it. It's based on an idea of Seegel. It consist of two covers (front and back) who tell a story together. It fits perfect to the music and lyrics and transports the dark aura of the album!
Do you have any shows confirmed to play in the near future?
Til now there are two shows confirmed one in Spain on 16th February with bands like Stormwarrior and Redimoni and the other one will take place in Germany in May with Tankard.
Which countries have you enjoyed the most? Do you have any favorite ones?
Playing in other countries is everytime something special for us. A highlight were our two shows in Japan, Osaka at True Thrash Fest in Feb. 2012. We met many dedicated maniacs there. The european and japanese culture are different but when it comes to Metal the same fire burns in our veins!

Any plans for an upcoming split with another band?
Yes there are plans to do an split but nothing concrete at the moment.
As a last question ; Do you like beer? Just kidding haha! 😉 We are looking forward to see you live in our country in the near future. Keep giving us some real thrash! Thanks for sparing time for the interview. Prost!
You better should ask which beer we like the most hehe. When there is the chance to destroy your stages we will use it! Hail the Cult!