Reviews
WHORETOPSY "They Did Unspeakable Things"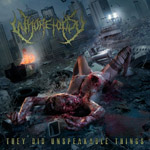 Torture Music Records/Sevared Records/Infinite Regress Records – 2012 – Australia
Whoretopsy is a new brutal band from Australia, they formed in 2011 and released a demo at the same year. Then they released this album in this year via a couple of brutal labels. A perfect artwork has done by Phlegeton Art Studio. Also this album is mastered by Colin Davis (Vile).
They are performing slammin' brutal death metal with a strong sound and production. Drums are programmed well. Their music sounds like more American bands. Think a mix of Dying Fetus and Deeds Of Flesh with slam influences. Technical and staccato riffs, syncopated drums, strong bass guitar tones are compatible with drums, guttural and brutal vocals with dirty death metal screams… Totally brutal!!!
Everything you need to be a death metal band present in this band. I can recommend this brutality to slammin' brutal death metal fans.
9.5/10