One of Netherland's best melodic doom metal bands is WHISPERING GALLERY. Already on the scene for more than 10 years, I thought we should get to know them better. Here's what their bassist Barry Van Trigt answered to my questions….
Well, first and a bit of a usual question but why not asking once more? (I guess soon someone's gonna tell me that I have to stop asking this!!!). How did the name WHISPERING GALLERY occur? I know you must have listened to this some thousand times but this is another interview so let's go 🙂
You're right, but no problem;) It's a long time ago but I think it was Pascal who was on vacation in England. He visited the St. Paul's Cathedral. And well there is the Whispering Gallery;), he thought is was a cool name and suggested it to us. We all liked it and Whispering Gallery was born.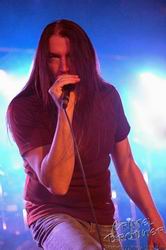 You have so far 3 full albums and a mini cd….what's the reaction of the audience in your music?
The reaction of the audience is very good, they are the best! We never thought so many people all over the world would like our music, but it's great to know that the music we love to make and play is so appreciated!
Which of your works if the one you consider the best, the most emotional and out of heart one you made? Which is your favorite "child" as I call the artists' works?
Ohhhhhh my God, that's impossible for me to answer. It depends on my mood and how long ago I've heard them. But I like them all, that's for sure…
Having two vocalists is not that usual…However it seems that up there in the Netherlands you like doing that…You're the second favorite band of mine in this country (the other one is MORPHIA) that use this style of vocals which personally I really love. What was the thought behind that? Why didn't you stay with the usual one vocalist using screams/growls and clean vocals where necessary?
It's just something that happened this way, when we started in 1995 there weren't much other bands who used clean (male) vocalists in the doom metal genre (in the Netherlands), I can't think of one at the moment. And as it turned out our current vocalists could and liked to sing, so why not take advantage of it. We love the variety in vocals and love to experiment with it.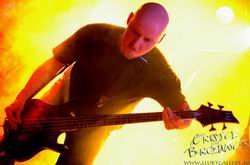 Would you ever add female vocals too? And I mean in a regular basis, not in 1 song for just some lines?
I don't think that will ever happen, maybe once in a song, we've tried it already in "The Ghost Inside", but that wouldn't work. Never say Never, I've learned…
You know that your style is underground, which means not that much of recognition and not that much of sales. Would you ever change style to become more commercial?
It's always good to get some recognition and I believe we get our share. But I think we'll be an Underground band till the end of days 😉
I don't think Whispering Gallery is a band to become a commercial success.
We like variety and it surely will happen that we'll make some songs which are easier on the ears but it won't be a priority. The priority is to have fun in what we do and make some nice tunes ;o)
What do you think of bands like ANATHEMA and PARADISE LOST that really changed their way through years?
Personally I love what Anathema did and I'm a big fan of their music. It's great what they can achieve with their music. But in general, I think it's great what those bands did, that's called evolution ;o)
Describe a bit the kind of themes in your lyrics. What do you like writing most for and who does that part in the band?
Wrong guy for that question ;o) There are 4 guys (not me) who write the lyrics and it's about everything except political or religion… love, death, fantasy, there are lyrics which will give you hope and there are lyrics were all hope is gone :O)..
Silly question which I already know the answer for but, do you like most playing live or studio recording?
We all love to play live, it's the best thing you could do with your band ;o) especially when the audience is enthusiastic and when they aren't……. It's still great to play a live gig ;o)) The studio isn't a hell either, just keep the beers flowing ;o))
I always thought as good bands the ones that sound same in studio and same playing live. You're one of these bands that achieve that…How easy is it to sound same in both cases?
Just don't alter your sound to much in the studio and use your own speakers. It's not so hard 😉
Should we expect something innovative in your music or sound in your next work? When should we expect a new work?
Hard Question, You'll never know what to expect with Whispering Gallery, we don't know either. At the moment we're working at some new material.
It sounds different and we'll see what the other songs will do.
At the moment we're having a little break, but I won't be surprised when we start to record new material at the end of the year.. So, there's a change to expect some new work in 2008.
Which bands do you consider, in an international level, the top ones in this genre you also are? Which are you favorites through time?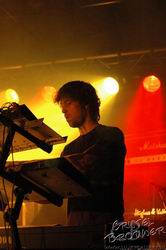 I can only speak for myself, but the band who was my inspiration is My Dying Bride, the band you mentioned before "Anathema" is another one of my favorites and off course Tiamat.
I don't think we belong to the top by the way 😉
Are any of the members involved in side projects? Do you consider side projects a kind of threat for the main band? I know that in many cases members leave a band to develop in a side project? Would you ever do that?
There are some guys playing in other projects, personally I'll never start a side project, I don't have the ambition. It would suck when Whispering Gallery decides to pull the plug, but I don't think that will happen soon and when it happens it won't happen because of a side project. We all love being a part of WG, and the strength of Whispering Gallery is the six assholes who are Whispering Gallery.
Where do you see yourselves in let's say 10 years from now? Would you go on being the metallers you are or would you give up to become ordinary everyday people with normal jobs and families and stuff?
The most of us are ordinary people with normal jobs and some with families ;o)
But still real Metalheads, and that's what counts. 10 years from now????, who'll know, I don't ;)) we'll see what time brings us…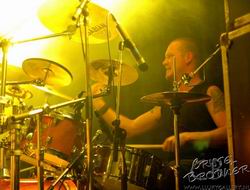 Which is your most favorite scene internationally? Some say "I love the British doom scene", some say "I like the Scandinavian"…which is yours?
Most of the bands I mentioned are from England, so I guess the British scene ;o))
After more than 10 years of activity, do you think it's time to make something visual for your audience, something like a dvd containing live performances and general info and moments of the band?
There are plans to make a video, I don't think there will be a dvd, but who knows…
Maybe we'll ever decide to go nuts 😉
Final words belong to you….Greet us the way you wish;)
Check us out at our MySpace (www.myspace.com/whisperinggallerynl) or check our website www.whisperinggallery.nl .
If you like it tell others to visit our site(s) , if you don't like it, do the same ;o))
Hope to see you at one of our gigs, keep the Metal Alive!
Greetz and thanks for the interview..