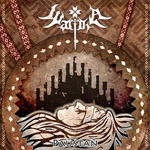 Stygian Crypt Records – 2012 – Belarus
The band WARTHA is from Belarus. Already since 2008 musically active they put this year their first full-length cd "Paustan" via Stygian Crypt Records on the market.
Here is coobled up Belarusan Folk with dark Metal elements. All in all eleven thrilling and brimming over with energy songs. Thereof develops a very own musical mixture which sets apart from many Metal or Folk productions like for example ARKONA. Diversified featured it is necessary to discover each single song. Beautiful melodies which encase hard, aggressive tones let originate worlds of light and shadow. Rounded off by flute and synthesizers, The listener is brought in various musical worlds which can't be more different. The skilful use of various tempi let appear "Paustan" lively. The divergence between dark growls and classical female vocals emphasizes the strife of the production. A morbid symbiosis develops which makes a lasting impression. The icing on the cake is the very successful IMMORTAL cover ("Blashyrk') which shows the bands' affinity to the Black Metal. You can hear here at any time that adepted musicians were at work which know their craft. WARTHA show with "Paustan" that the interaction of Metal music and Folk music can be quite successful. Very dedicated and with a lot of passion recorded I can only recommend WARTHA!!!!
8,4/10