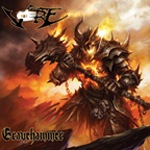 Self-released – 2011 – U.S.A.


This three man band comes from Arkansas–guitarist/vocalist Page Townsley, drummer Remy Cameron,& bassist Jeremy Partin. Arkansas is not a place known for metal, but these masters of the old school rip out nine impressive tunez on "Gravehammer". "Doomwhore" is one of my favorite trax on the disc, nice guitar solo, my other favs are: "Gravehammer"-bad-ass, "Throne to the Wolves", I really think the whole release is great!
Vore has really grown over the years, the first time I heard them was on "Dead King's Eye's" I liked them then, I Love them now. I have seen them live at the Milwaukee Metalfest their years of dedication to the musick is renowned, their experience and talent really shows off in "Gravehammer".
The artwork for "Gravehammer" is terrific, I see it on tonz of shirts it is great art work by Daarken (www.daarken.com)
Gotta say I love their doomy/death/sludgy style it's rhythmic and just all around fuckin' great musick! Support American Death Metal!
10/10