Reviews
VOMITORY "Opus Mortis VIII"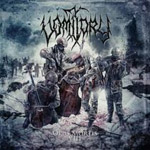 Metal Blade Records – 2011 – Sweden
Vomitory has been one of my favorite bands from the early nineties and still is to this day, they are a well oiled machine that are constantly tweaking their death metal formula to keep moving forwards instead of backwards. "Opus Mortis VIII" is Vomitory's eighth creation and it is no exception to the rule. This is one of their most intense albums with top notch production that lets you hear Vomitory at their most supreme. Erik Rundqvist shows off his guttural growls that are more punishing than ever. The guitars are thick with technical riffs and some of the most vicious solos that I've heard in a long time.
"Regorge in the Morgue" starts things off with an awesome bass intro before Erik plows through with his massive death metal growls. "They Will Burn" comes in with charging riff thundering at a headbanging speed while Rundqvist's vocals gush with pure evil. "Hate in a Time of War" begins with quiet guitar that is quickly crushed by heavy dual guitars from Peter Ostlund and Urban Gustaffson only a few minutes in. This carries a very heavy Slayer influence in different spots throughout the track but still is very much Vomitory. "Forever Damned" slams in your face with pulverizing drums and searing guitar. This is by far one of my favorite tracks and shows once again that Vomitory is masters of their craft. The album stays continually heavy while switching back and forth from catchy hooks and riffs to blastbeats that take off at neak breaking speed. Vomitory then proceeds to completely obliterate with their closer, "Requiem for the Fallen" as they bring in some more old-school riffing and Erik spews out "This is where your life ends!!" Nuff said.
While they're not changing anything in the death metal scene, Vomitory is constantly showing they are willing to progress and build on their sound to make sure that each album is even better than the last. You need to pick up "Opus Mortis VIII", your little metal heart will thank you.
9/10