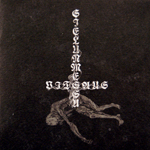 Hammer of Hate – 2010 – Finland
A 5-song hate panzer sends bullets to your inner world with every piece of it. Vitsaus, the secondary project of Valnaja from Horna, means plague in Finnish. The band's genre can be called as Finnish raw black metal. They have songs include riffs like in Horna, Sargeist and Satanic Warmaster. Also there are riffs that remind me of Mayhem's De Mysteriis dom Sathanas album.
General structure of the album is cold and creepy. In short, it can be said that this album can satisfy raw black metal listeners. With rebellious and hateful vocal, not-so-hard compositions and drum parts, they constructed an album of a classic raw black metal band. Attention to the album cover, it looks like a bad choice.
6.8/10