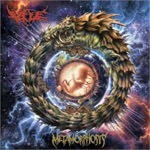 Willowtip Records – 2011 – U.S.A.
Heavy silence surrounded this Californian band these lately. Their previous album came out six years ago and such a long hiatus is always reason enough to worry in these accelerated times. The break, however, brought "young blood" to Vile: bassist Erlend Caspersen, guitarist J.J. Hrubovcak (who also plays bass in Hate Eternal) and vocalist Mike Hrubovcak sided with founder guitarist Colin Davis and drummer Tyson Jupin. The fourth Vile album entitled "Metamorphosis" has been made by this revitalized line-up.
Death metal – brutal, technical and atmospheric at the same time. Certainly not original because bands like Suffocation, Morbid Angel or Immolation all left their mark on it but even walking on this beaten track Vile does quality work and keeps it exciting enough for fans of extreme music. In the compositions, average duration is approximately three and a half minutes, there is time and place for high speed parts, mid pace stuff and gloomy guitar melodies / solos. The structure of Metamorphosis is also interesting because the first half is mainly characterized by intensity – which culminates in the tracks Rise and I Am Alive – while the second is full of slower moments. Shadow Work, for instance, is basically a doom-death song. And the instrumental Redemption, with probably the most outstanding solo from Davis on this album, is a great idea as closing track.
Instead of beating out new paths, Vile choose to stick to the tried and tested road that the real ground breaking bands of the genre have created – but they undoubtedly find their way around. Metamorphosis will not redefine the genre but it's a lot more than just a correct effort. The paragon of reliability in death metal.
8/10