Hi to you Victimizer from Extreminal Webzine in Turkey! I listened your music and i liked it so much.This is going to be the first interview for me actually. But you should not be afraid, because i'm a mucisian like you, too and i really understand you 🙂
My first question may sound cliche but i believe that may be a good one to introduce your band to people. Could you please give us some information about your members,band and its history? And I wonder why have you taken such a long a breathe for all that time?
Richard: Hello NaeniaVirtus, this is Richard speaking. First of all thanks for the compliment on our latest album. Glad you liked it! Victimizer was formed in 1996 and on april the 3th that year we had our first complete line-up consisting out of 5 members. After several shows, a demo and many line-up changes we found our first stable line-up in 1999. The band was now a four piece with myself on guitar and vocals, Sasha on guitar and vocals, Romeo on drums and Chris on basguitar. We recorded a demo called "devicderin" and our first full lenght "divided as one"and played as many shows as we could do. During the preparations of our follow-up we decided it was time for us to find a singer. We found our live shows a bit static without a frontman and besides that Sasha and myself wanted to focus more on playing the guitar which is not as much fun when your constantly yelling in the microfone. We found a singer in Niels who I met at the place I worked at the time. He already had some experience as a singer in other bands and he turned out the right man for the job. Because all kind of problems it took al long time to write new material and we decided to record an EP instead of a full lenght called "the spiral down". After this record we played a lot of shows and did two mini tours in holland. When we started to work on new material our founding member Sasha had a terrible accident and needed a long time to revive. Sasha wanted a temporary replacement to fill his shoes until he was fit enough to play again and Andrew took over the guitar. Because of several reasons Sasha later made the decision to quit the band and Andrew became a permanent member. After all this we worked verry hard on our latest record "tales of loss and new found serenity" and played lots of shows. We were signed by Deity Down records who will release the album which makes this our first album to be released on a label. This is our history in a nutshell.
Whose job is it to make the compositions or the musics and write the lyrics? I mean how do you organize your missions within the band? How are your moods while you compose your songs? And what are you trying to tell in your songs to your listeners?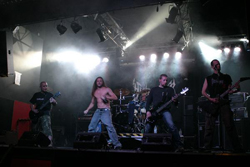 We work different on every album. For this album the compositions were mainly written by myself. Niels writes the lyrics and we try to fit them to the song. This means that sometimes the structure of the song or the lyric changes a bit to make it all work. We record the guitar parts and the vocal patterns in Andrews home studio using a click track and present the song in the rehearsel room where we start on the drums. Usualy Romeo suprises us with the briljant stuff he comes up with which triggers the rest of the band to rewrite some parts. During the weeks that follow stuff keeps changing. Some guitar and bas parts are rewritten, some vocal patterns are done different because it turns out to work better that way, and sometimes the arrangement of the song changes a bit by making parts longer or shorter.
We as a band find it important that the lyrics deal with human feelings and emotions rather that the fictional and political stuff. During the making of this album a lot of members had to deal with losing friends, family or relations and therefore a lot of lyrics deal with the topic of loss and how to deal with this without losing it youself. Both the lyrical and the music aspect of this album are influenced by these kind of emotions. When we as a band work on a song in the rehearsel room however, we have lots of fun and basicly having a good time. I think that is the beauty of playing this kind of music. You put all your anger, sadness and negative vibes in the music and turn it in to a positive thing by having a great time performing and writing the songs.
I know stuffs like mixing and mastering for your new album done by Dan Swanö.How did this happen? And how did your album really permeate into you when everything was finished in the end?
Dan was our first choice when we talked about our options for mixing and mastering. With his band Edge of sanity he dared to mix death metal with lots of nontraditional deathmetal stuff such as clean vocals and songs from over 40 minutes! When Victimizer started out this aproach was an inspiration for us. Also he had a hand in producing several of my favorite metal albums from that time. When we heard the production of the first Hail of bullets album however we knew we wanted to ask him to do our album. When he agreed to do this we were of course verry happy. When we heard one of the first mixes it became clear that we made the right choice because the sound already was brutal. We are all extremely happy with the outcome of the final product. Everything sounds heavy as hell but open enough to still hear all kinds of detail. This is our first album of which we are all totaly satisfied with the outcome.
I really liked your this last album "Tales of loss and new found serenity".Alright, who did design the cover? It has befitted to your style very much.And what is the story of this new album? Could you pls give us some info about the story of your cover,songs and things like these for"Tales of loss and new found serenity"album?
As I mentioned earlier the album deals with the topic loss and how to deal with these feelings. This sort of happened by coincidence. Normaly we just write what comes to mind and make this into an album. This time when we were nearly done writing the album, it came to our attention that a lot of the lyrics deal with this kind of subject matter and we dicided to make this the theme from the album. The title of the album is a line from one of the lyrics which sums up perfectly what this album deals with. The man responsible for the artwork is Richard Spierings. We first heard of him when we saw the artwork he created for a band called Another Messiah. We all liked his style and asked him if he wanted to do ours as well. We went to his home and spoke about the lyrical content of the album and talked about artworks from other bands we liked. We basicly let him create something without giving him to much direction because we felt this would only burden his creativity. We are more than happy with the outcome and think the artwork is suiting our music and lyrics very well.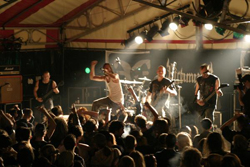 What are your plans for your band's future? What are your targets for extreme music? And in general what do you think about the future of your own band and for the extreme music? Does it seems like it is going for better or worse for the extreme musicians?
Right now were reheasing a new set to play live which will contain more songs from our latest album. We plan to do as many live shows as possible the comming months to promote the album. We are all looking forward to do this because we spent a lot of time writing and recording songs. Also we are gonna do more shows in Germany. We played a lot of shows in holland and it would be nice to broaden our horizon a little. I think it is going well with the extreme music scene. I must admid I do not follow the scene as closely as I used to and I don't know lots of extreme newer bands. The thing what gives me a good feeling is that a lot older extreme bands and musicians I listen to are releasing great albums again. For example the last couple of albums by Napalm Death are extremely brutal and are still innovating. Also the last Paradise lost album and the last Celtic frost and Trypticon album blew me away, just to name a few. I think these kind of bands give a great example to the newer crowd. They are showing that wanting to play extreme creative music is something which is in your blood and does not wither with age or simply growing up.
Have you ever been to a different country for music festivals or concerts? If you have, how did you feel yourselves on the stage?
We only have been to Germany and I must say this is a nice experience. I think the crowds in Germany are a lot more loose than the Dutch crowds. It is also a little weird to adress the crowd in a different laungage then your own.
Haha ok, I want to ask you some up-to-date questions. Which bands or music kind were you impressed by in your life time?
Richard " This is a very difficult question. First of all I must say I listen to all kinds of music by all kinds of bands. The first music which realy got to me was the stuff my parents listened to when I was young. Were talking about bands like Creedence, Pink floyd, deep purple, Jimi Hendrix, Black sabbath and basicly all kind of bands from the sixtees, seventees and eightees. Later Guns and Roses came out and this blew me away. This was an open invitation to check out more bands who rocked harder than the stuff I knew before that and I soon discovered the Live after Death album by Iron Maiden. From that point I just checked everything that came on my path and played metal. From Maiden to Napalm death and from Darkthrone to Saint Vitus. today I listen to all kinds of music. I love bands like Portishead or the first album by Goldfrapp. I also like to listen to the darker stuff from hip hop acts such as the first two albums by Mobb Deep, the first two albums by Onyx, the first Immortal technique, Jedi mind tricks etc. Of course I also keep listening to metal!
People always said "we need a job to live" or something like that,you know.This is a golden rule in their fucking fake life system. We don't beleive them and we will always oppose to their shitty rules.But it seems like we still have to work or study to live. And what do you do to live? Do you work, study or are you only musician?

I wish I was a musician only haha. No, just as everybody i am forced to take part in this system and need money to live. As I hate people who feed of each other as a parasite and choose to live of welfare and not work, I have a job. I work in a mental hospital for the criminaly insane. Although I much rather spent my time making music I like this job very much. By dealing with these people I work with, you learn a lot about youself and the behaviour of other people. Human behaviour is something I am always intereted in and therefore my work helps me grow as a person. Besides this is not a 9 to 5 job and I work at different times. This makes it easier to combine the band with my work because I can plan my work a little around the band activities.
What do you do in your free time? or have you got any hobbies?
When I'm not busy with the band or work I listen to a lot of music. I'm also a big movie fan, especialy horror movies, and I have a nice collection at home. I like to search for weird twisted horrormovies to add to the collection but I also am a big fan of the Pixar animation movies and basicly all other type of movie. Besides this I like to play videogames. Right now I'm realy into the old rpg games from the SNES era like A link to the past and Secret of evermore. I think this pretty much sums up what I do in my spare time.
I have a last question for you.And really thank you for the interview.It was great for me 🙂 Could you pls give some advice to extreme musicians like your? And do you have some last words you want to add about yourselves, your band to your listeners?
Thanks for the interview! I liked the questions and I couldn't tell this was your first interview. I realy have no advice to other musicians except to stay true to what you wanna do. Just keep believing in your own music, stay down to earth and don't quit! To all the people who read this I'll just say; check out our new album and come see us live when we are around!