Reviews
VALEFOR "Screams of Suicide"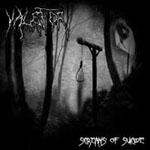 Rigorism Productions – 2010 – Turkey
A man band – Valefor, was founded by Sargathus from Izmir/Turkey, released his first album "Screams of Suicide" recently with the label of Rigorism Productions. Even though the band was founded in 2008, no demos, eps etc. was released until recently.
Having a black and white album cover like the most of the black metal bands is appropriate; yet, not distinct from the other ones in this genre. Before I checked the album out I thought it is a home-made single-person project, however it turned out to be a studio-record.
Valefor performs a suicidal black metal which is darker and more underground than the ones released so far in Turkey. Its music seems like a slower counter part of Abyssic Hate's, similar to some songs of Shining or similar to Silencer especially with its vocal. Vocals like this always seem to me a little strange however I get used to them through the end of the albums. I suppose in addition to gloomy vocals there could be a black metal scream vocal.
The album is as delicious as the ambient intro of its last song "Cursed Ceremony". Nevertheless, there could be some only-ambient songs.
I recommend this album to anyone who wants a new, depressive music from Turkey.
7/10