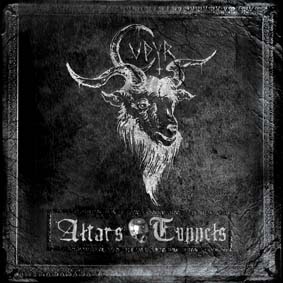 Demo- 2013- Bulgaria
UPYR are from Bulgaria. In December 2013 they released their four song production "Altars Tunnels" via Serpent Eve Records.
How can you describe the music of UPYR? A mixture of Doom Metal and Black Metal resounds while listening. Pitch-black song structures bear witness to unending sorrow and depression. Partially halting riffs which wind heavy and melancholic through the all in all four songs give the production additional darkness and sustainability. Difficult song structures which betray its entire multifacetedness only after repeated listening make clear that "Altars Tunnels" is no easy to consume cd. You therefore must take time here to get yourself completely into the production. The nerves of the listener is additionally stressed by the very emotional growls which are revealing deep inwards of vocalist Brodnik. But, these efforts are worthwhile! The emotional aspect is additionally manifested and reinforced by the slowness of the songs. Recorded with much blood, sweat and tears you notice that UPYR were minded with heart and soul. For all fans of dark Doom Metal a must-buy!!!!
8,5/10