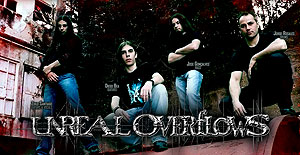 Spanish technical Death metallers UNREAL OVERFLOWS have just finished working on their sophomore album entitled "False Welfare". Entirely recorded, produced, mixed & mastered at their very own Zoilo Unreal Studios.
Taking off where their debut album "Architecture of Incomprehension" left and despite two significative line-up changes, "False Welfare" displays an excellent brand of progressive & technical Death Metal taking as basis the latest DEATH album and some of GOJIRA's innovative ideas to create a masterful album full of killer melodies and memorable riffs.
"False Welfare" is scheduled for an immediate release during mid November and you can already watch the album cover on high quality as well as listening to an advance track and an official teaser below.