Reviews
UNCION "Via Tenebrae… Gloria in Excelsi"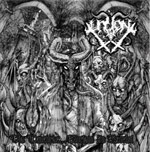 Self-Released – 2010 – Mexico
Uncion is a new band from Mexico and their first production is an EP with four songs. It has a handsome logo and a good album cover.
Band's genre is an average death metal from Mexico as we get used to. They have a bit dirty sound but everything is pretty clear, it is enough to go on with this music.
Even if lyrics have darkened black content, drum rythms, vocal style and guitar riffs resembling 90s American death metal are like an oldschool metal. They are not as fast as new generation brutal death metal but their music is enough to feel the spirit of old school death metal. People pleased with oldschool and underground stuffs can take a look at that band.
8/10