Selfmadegod Records announced the signing of Virginia based UNBURIED.
This brutal trio is set to release their new full length "Murder 101" on December 17th 2012. The album consists of 11 tracks of gore-filled underground death metal mayhem. UNBURIED is: Matt Pike, Mark Riddick (FETID ZOMBIE, MACABRA, GRAVE WAX) and Brian Forman (FETID ZOMBIE, GRAVE WAX).
UNBURIED was birthed from Hell in the year 1994 by Matt Pike-the main songwriter/lyricist for the band. In 1996, UNBURIED unleashed their self-titled debut cassette demo recording upon the international underground death metal scene, featuring the first line-up alongside Pike-Christian Taylor and Mark Riddick.
Since its birth the band have released two cassettes, two splits and one full length "Slut Decapitator" (2008).
Artwork and layout has been drawn by none other than Mark Riddick himself so you know what to expect.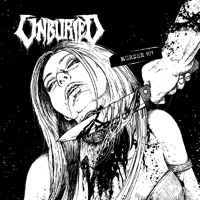 Tracklist:
01. Trapped in a Delusion
02. I'm Going to Fuckin' Kill You
03. Stalked, Fucked, and Buried
04. Abraxas Annihilation
05. Homicidal Sex Rage
06. Reborn Unto Hades
07. Impulse To Kill
08. Heartless Corpse Defilement
09. Witchburner
10. The Kidnapper
11. Murder 101