News
TURBID NORTH release video for 'Pyramid Drones'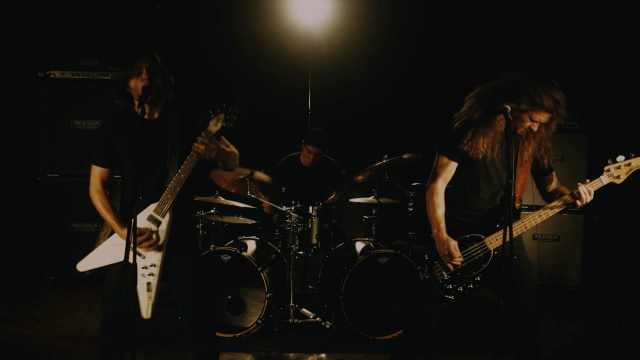 Alaskan Mountain Metal crew Turbid North have launch a brand new video for the track 'Pyramid Drones'. The song is taken from their second full length album 'Eyes Alive' which is penned for release on 30th September via Apocalyptic Witchcraft.
The album is released on limited edition 180gram blood red vinyl and comes with a patch.
Vocalist Nick comments:
"The video was shot in an awesome venue we play regularly in Fort Worth, TX called Tomcats West. We rented some lights and one camera on a tripod to film ourselves. Did about 10 takes with different angles. No camera man, completely DIY. It isn't the most action packed video, but we needed something quick and I really thought it was important to show off the new lineup."
'Eyes Alive' is a concept album based in a dystopian future where the sun is a red giant and life on earth is a constant struggle to survive. The record was a complete DIY effort – recorded, mixed and mastered by vocalist/guitarist Nick Forkel at his Black Ram Studios.
Forkel explained:
"When we started to write this album our original singer and other guitarist left the band very early in the process. We decided to carry on as a 3 piece and continued writing. We wrote for a solid month, recording everything we did, then I took all those recordings and basically wrote the songs out of those jam sessions over the next couple of months."
For fans of Napalm Death, Misery Index, Crowbar, Mastodon, Gojira, Isis and Pink Floyd.