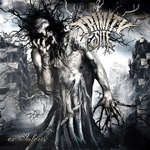 Self-released – 2012 – Germany
Last year TRINITY SITE from Germany released their debut EP called "Ex Inferis" in in-house production.
The gents play Melodic Death Metal. But, careful! Who expects now superficial Metal music is here barking up the wrong tree! Powerful Death Metal base frames mix with some other musical genres to an independent mass which constitute the sound of TRINITY SITE. The all in all six songs go forwards and have definitely a high potential of energy. Boredom and lengthiness are foreign words here! Energetic riffs which may also be melodic ease "Ex Inferis" a bit without thereby loosing aggressiveness. Supported by forceful bass lines which still reinforce and emphasize the power of the production. The distinctive growls of vocalist Max Ruck give additional main points. Who is into music which also goes beyond the box, but is not too experimental whom be most warmly recommended this cd! It's certainly worth it!!!