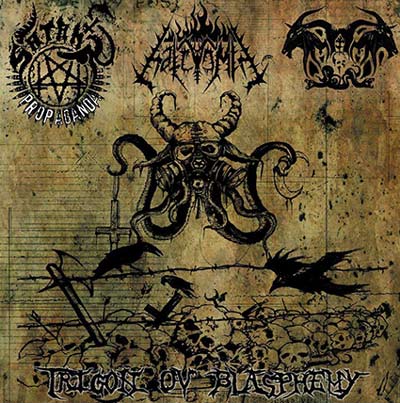 Black Saw Records – 2014 – Turkey – Germany – Colombia
Recently a split cd reached my electronical Metal letterbox. It is called "Trigon Ov Blasphemy". It was published in November 2014 via Black Saw Records.
Let's start with the band SATAN'S PROPAGANDA. You can hear a demonic musical thunderstorm from the first note on. Raw, snotty and with a certain street attitude provided songs. The all in all three songs represent a mixture of Black Metal and Rock'N'Roll. Fast played they doesn't allow time to take a breather to the listener. Coarse and straight into the face SATAN'S PROPAGANDA make a lasting impression on the listener.
IMPALER OF PEST initially start very calm and spheric. But, this silence doesn't last for a long time. Now, the gents show their true musical face. Black Metal through and through. Simple riffs, unfiltered and of infinite darkness. Thereby the guys display an incredible speed which downright takes the listeners' breath away, Here is the neck muscle guaranteed in steady gyration. Thrilling and powerful drawn attention to you should listen to the three songs by all means.
HATEVOMIT are a lik of harder. Uncompromising Black Metal the way it should be. Primordial pitch – black and brutal. Hate and despite are literally within your reach. Packed into diversified tempi. Sometime in highspeed format then again halting in the mid tempo area, the gents show raw and nevertheless dynamic Black Metal. A must for all fans of this genre and not only these.
All three bands worship the horned one which actually need not to be specially mentioned. A powerful production which leaves nothing to be desired and is recorded with much blood, sweat and tears. The split cd offers by all means a good survey or a good insight into the darkest musical realms. Here is purchasing duty!!!!
9/10