Reviews
TRELLEBORG "Lands of Njord"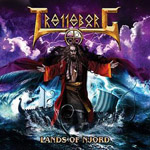 Stygian Crypt Productions – 2010 – Russia
Trelleborg is a young band from Russia, I don't have any information about when it was founded, but they released their first work in 2006 as a demo, the second work of them is this album, Land of Njord.
The cover of the album was neatly designed, a special art work. Designs and pictures in the bootleg are also good.
If we want to talk about their music, there are epic melodies adorned by keyboards in the album. Generally the songs suit the classic pagan-viking folk metal structure, besides, some songs are of the structure of progressive. Scream and clean vocals are coherent to each other. The use of accordion adds an interesting taste to the album. Trelleborg makes you feel that they are real Russians because sometimes you can feel the coldness of the country. The band is doing something unique for them and I liked this.
The recording and the production are qualified enough, the album is listenable for the ones who like these kinds of things. Folk, epic listeners can have a look at this.
6.5/10