Thrash metal combo from Albacete (Spain) "Toxovibora" reveal the artwork cover for their debut album. The artwork is an adaptation of the graphic designer "Lemut".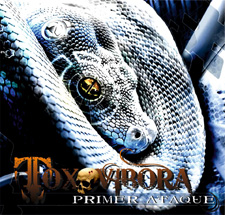 It was selected to represent the ancestral fear of the man, the snake. The futuristic influences are linked to the concept of the new wave of metal music. In this album there is a combination of the legendary thrash metal sounds of the '90 and modern influences such as the Groove.
The tittle of the album is "Primer Ataque" (First Attack) and represents the first impact of the band in a professional recording process. This name comes from the fact that this is the first full length from "Toxovibora", represented as the first attack of a snake.
In words of the band: "In our opinion, we reflected perfectly the sound that characterizes the band, a strong base, addictive and sharp guitar riffs, combined with a raw voice that spits conscious lyrics".
"Primer ataque" has been recorded in "La guarida de Kreggor" Studios, in Hellín, Albacete (Spain), by Pablo Alcazar.
The spanish release date is fixed for the 18th of February of 2013, and the 1st of March the album will be released in Europe and rest of the world through Code 7 and PHD Distribution.