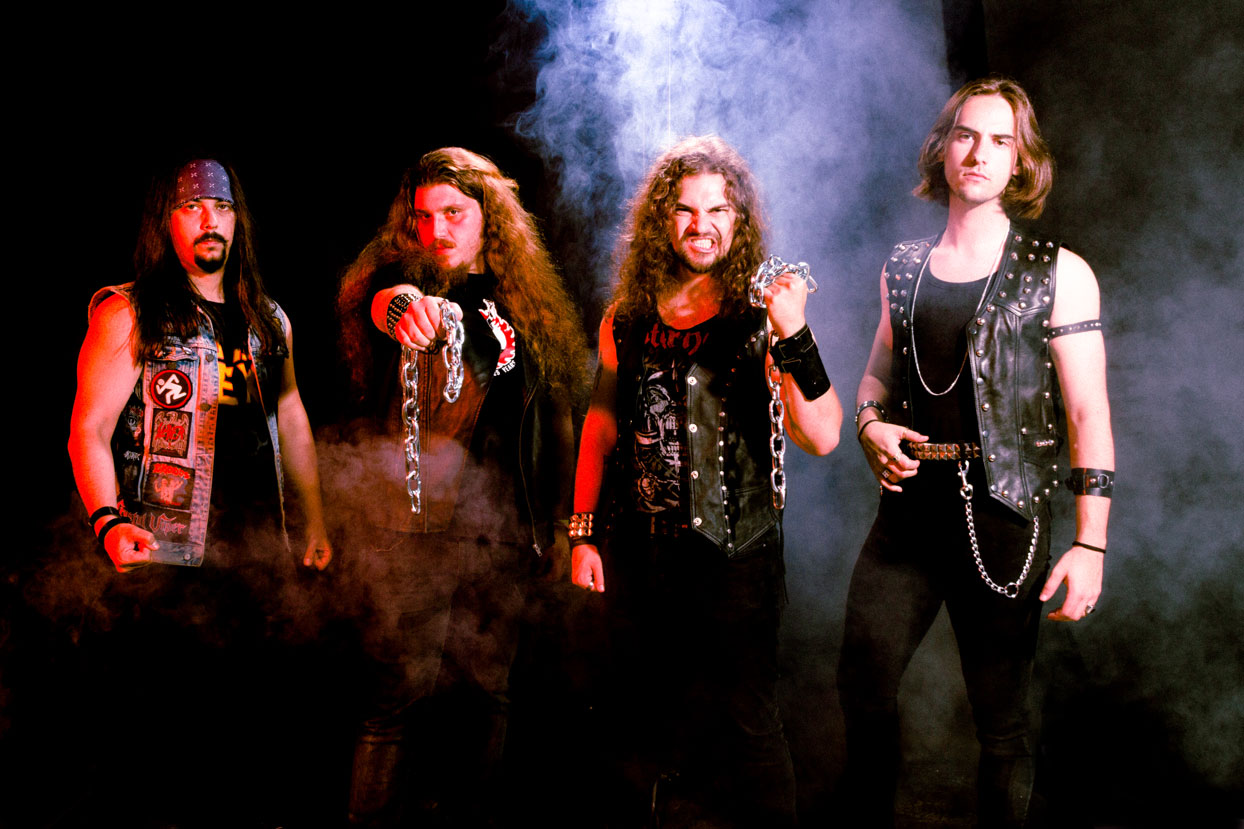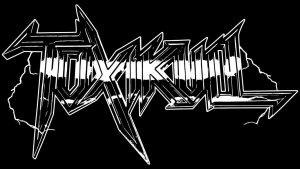 Toxikull are an absolutely crushing thrash band with some devastating riffing and speed and great vocals. After hearing the band's godly new release, "Cursed and Punished" I knew I wanted to interview this band and here is one with guitarist/vocalist Lex Thunder
Where were you born and where did you grow up?
Lex: I was born in Lisbon, and then I lived in Montreal, Canada for a few months because my mother is Canadian, then I returned to Portugal to Lisbon.
What sort of kid were you growing up? When did music start to enter your life?
Lex: Well, I was always a bit stubborn and at school, I argued a lot with my teachers because I thought that I was right in some subjects and honestly, in some situations I still think I was ha ha. I can say that I was a bit rebel; I always did want I want and always my way, lucky I always had a good family to keep me in the tracks and on the right way. I never was a videogame kid, always played a lot with my friends in the streets, and football (soccer) was my passion back then, as the most of the kids I wanted to be a football player.
That dream died when I discovered the guitar. Music was first in my life as a listener, I was very young and my uncle worked in a CD store, he always was listening to rock music, and playing some guitar. He showed me the Red Hot Chilli Peppers new album at the time "By the way" and then the "blood sugar sex magic" one and I think that was my first love contact with real music.
When did metal start to enter your life and what were some of the early metal bands that you got into?
Lex: Metal came in my life when I was about 15 years old. I was learning to play electric guitar and I think that when you're into rock music the natural process is to evolve to the metal music, because rock is awesome and unique but not enough, especially to a guitarist. So I started to listening to some commercial metal bands at the time like Avenged Sevenfold and Metallica and once you're into metal the tendency is to get deeper and deeper till the underground.
Now we move onto underground metal. When did thrash or underground metal enter your life and what were your thoughts when you first heard this style of music? Did it take a few listens or were you into it right away?
Lex: I listened some underground bands but I wasn't really in the scene. But the first underground band that got me into the real heavy metal underground without any doubts was Enforcer with the song and clip "Mesmerized by fire". And curiously then I was called to be the Midnight Priest singer and that band is the one responsible for pushing me into the underground scene. I'm eternally grateful for that.
Were there a lot of bands playing thrash around where you lived and where there many places that you could find underground metal?
Lex: Unfortunately no, the Rock/Metal genre it's not a big genre in Portugal. I live in Cascais, it's a beach side village in Lisbon, with a lot of tradition in Metal back in the 80´s and 90's, but since then there is no room for Metal. At the beginning, I felt a bit alone because I always had to fight a lot to play in some small clubs that only played reggae, and pop and I couldn't find some metalhead friends, it was really frustrating. So I had to create my own environment and I was always trying to convince my non-metal friends to like metal ha ha. Like "Come to the dark side". As an example, most of the members and ex-members from Okkultist, got into the metal underground scene because of that, I was a real pain in the ass because I wanted some metal friends. Then in 2014, a club called Stairway Club was born with a lot of shows that allowed us to play more often and make some friends with the same musical tastes. That changed our history because the owners are now our agents (Amazing Artists Agency and Amazing Events) and above that they are our friends. That club influenced the Cascais scene so much that a bit later there were 3 bands from here playing across our country. The bands were Toxikull, Okkultist and Booze Abuser.
Now when did you start to pick up the guitar and what are some are some of your guitar influences?
Lex: As I mentioned before, my uncle had a lot of influence in this, he had a guitar. Sometimes I took it and started to learn some stuff via You Tube, and tried to make some basic songs by my ear. Then I entered my school band and the evolution started there.
Now tell me about the other band Midnight Priest you were/are in and we will move on and what did you do in that band?
Lex: I only entered the band in 2015. Midnight Priest are one of the New wave of Traditional Heavy Metal pioneers and well-known underground bands in Europe. The band started in 2008 when there was only a few new traditional heavy metal bands like Enforcer, Skull Fist, Stryker and a few more. They were able to play in fests like Wacken Open Air, Headbangers and we have 4 European tours in the last years. In 2015 I entered the band to substitute their singer "The Priest", and since then I recorded two albums, and made 2 European tours.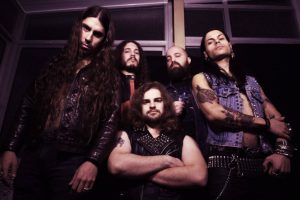 So now tell me how about Toxic Room (2014-2016) then Toxikull (2016 till now) formed and how you found each other?
Lex: I formed Toxic Room after I was kicked out from a band because I didn't knew how to sing. So, in anger, I called a drummer friend of mine named Gonçalo Pereira and told him to start a band together. We rehearsed in an old stinky room and called the band Toxic Room. We played some covers at the few local pubs. We had several line-up changes till we find a good one, without Gonçalo. In that point we decided to change the name of the band to Toxikull and release a full length CD called "Black Sheep".
Now when the band formed was it going to be understood that you were going to be the guitar player and the singer? Do you think you're a good singer and guitar player?
Lex: Yes, the idea since the beginning was for me to be the singer and guitarist. That's a good question. Back in 2015 when I played in VOA (Vagos Open Air) I was reviewed as one of the Portugal top singers, so I think I'm doing something good. But in my personal opinion, I think that now I'm a good singer that can do a lot of things with my vocal range. But, I think I could only achieve this, two years ago. Even when I got into Midnight Priest, I don't think I was so good as that. I was very young and discovering my voice. I believe that I didn't show yet all my value and I can get even better. As a guitar player, I could be much better, but I had to choose between being an exceptional singer, or be an exceptional guitarist and you can guess my option. As a guitarist, I'm very creative composing riffs and solos, but I'm not a shredding and speed guitarist, I don't practice as I should. I'm more a rock n roll guitarist than a metal guitarist.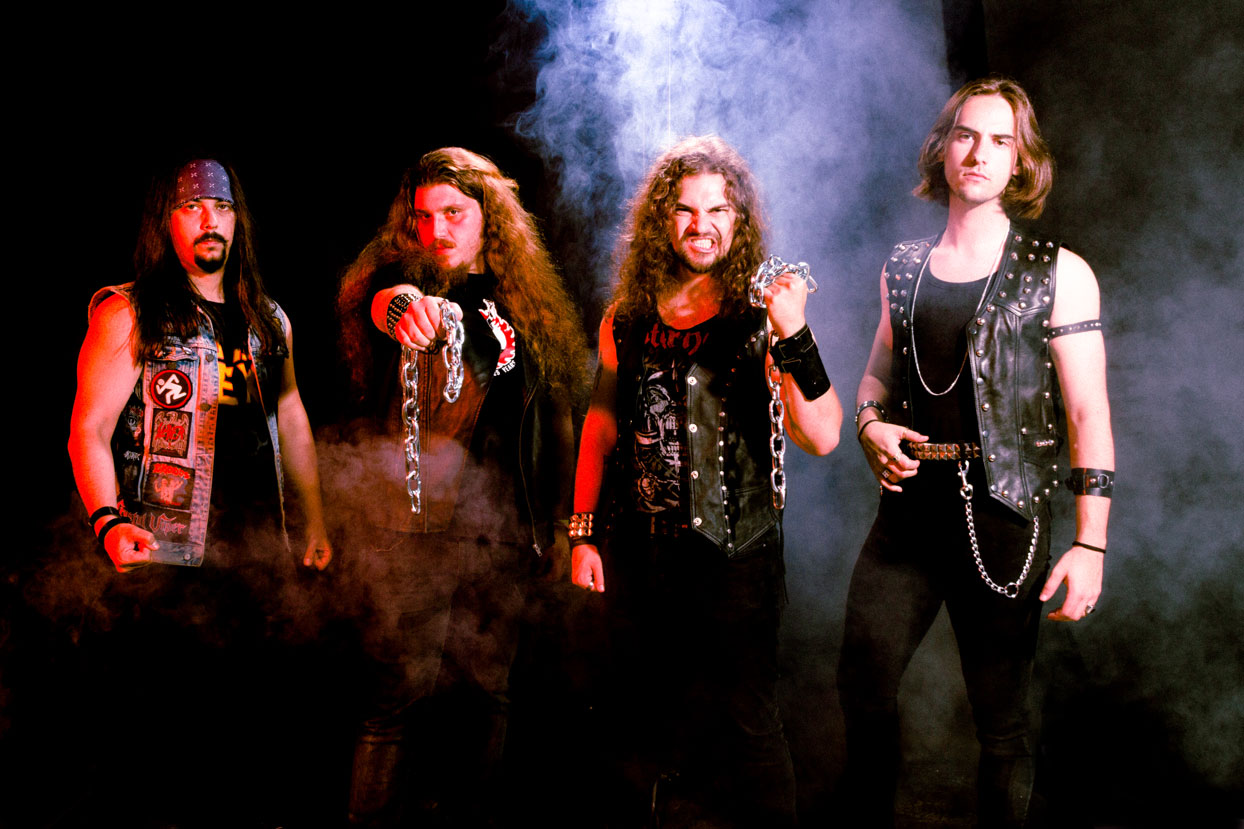 What made the name change from Toxic Room to Toxikull and was there a big change in the band's music sound as well?
Lex:  We felt that we were not the same band that played covers and we decided to go serious, and as a proof of that, we needed to change the name, to announce our new phase, our evolution. And also we didn't like so much the name Toxic Room. (it is pretty bad-chris)
Tell me about your debut release called "Black Sheep". Who released it and what are your thoughts on it these days? Is it still for sale and who released it?
Lex: The CD is still on sale, we have a few copies because we asked more to the label. The label was Non Nobis Productions. Here from Portugal. Honestly it's not an album that I like so much. It's cool but it's pretty commercial. Not that there's anything wrong with that but we simply don't identify ourselves anymore with that album. But, at the time it was really cool and we played about 60 shows in two years with that album.
In 2018, you released an Ep called "The Nightraiser". Who put this out and what are your thoughts on this release these days?
Lex: The release was edited by two Portuguese labels, Mosher Records and Firecum Records. For me is my favorite record ever. It's magical. It was that record that launched us on the real scene. It's fast, raw, diabolical, I'm really proud of that EP.
Also in 2018, you released a "Special Edition" demo, what exactly was this?
Lex:  Ha Ha, that's a funny story. We had a tour with the band Crystal Viper, but we had no money to go, so we recorded two demo songs in Thunderclaws Studio (my studio and from Garras) and made a special edition to sell in the tour with some t shirts. It was a success and we made a lot of money. The songs was Killer Night, and Speed Blood Metal that is also on the new album "Cursed and Punished".
For someone who has never heard the band, what would you say the band sounds like? Do you feel you're an original band?
Lex: I think in this phase with this new album, the band sounds like heavy metal to the limit, you cannot play heavy metal faster, and more hi pitch than this. We try to be true to ourselves and original to ourselves. Another good question. That is a discussion some people have about us, some people think and say that we are authentic and original, but some other people and reviews say that this kind of traditional metal it's not original and it's dead. I think we sound like many great bands, but don't really sound like them. We try to be the most original possible but we cannot forget that this genre is done by the best bands ever so it's a difficult question.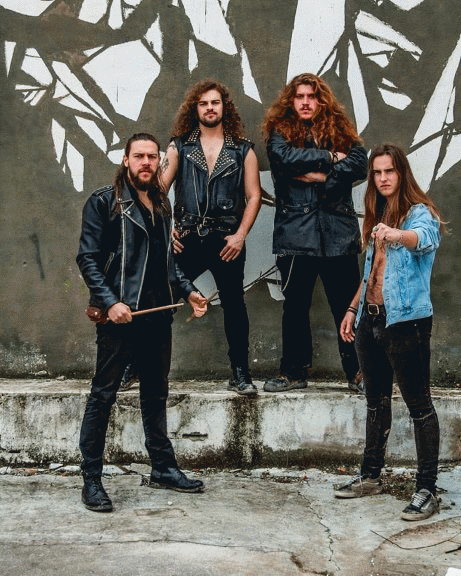 When did you think you found the "Toxikull" sound so to speak?
Lex: When my brother Michael Blade entered the band. He is a very fast creative guitarist that know exactly what heavy/speed/thrash is about.
Now we come to your newest release called "Cursed and Punished" on Metal on Metal Records. How did you hook up with Metal on Metal and how has it been working with them?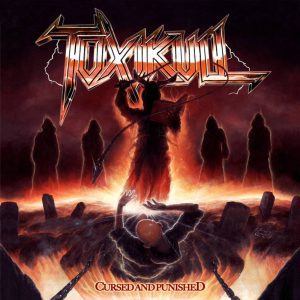 Lex: I met Jowita and Simone that are the owners of the label because they signed Midnight Priest the year before and they wanted to release Toxikull too. Till now everything is going ok, somethings could be better, other ones are perfect, like everything in life. In the overall, it's okay to work with them.
How did the songs for your new release come together and where did you record it and how has the response to it been so far?
Lex: This album was composed by Michael Blade and me, a few months before we went to studio. My brother composed more songs on the guitars than me on this album because of personal reasons of mine. But, it worked really nice.
We recorded at Demigod Recordings and it was a really amazing experience.
The response to the album it's been really great, the worst review was a 7/10 so it's amazing. (that reviewer must have been drunk ha ha-chris)
 Have you had a chance to play many live shows and do you hope to do any type of touring at all behind this release?
Lex: We played our presentation show and two festivals. Next year we are going to announce some more shows and tours.
I think your new release is easily one of my top 3 releases of 2019. Has many other reviews/fans been telling you that at all?
Lex: Oh, really nice to know that. As I said above, the worst review was a 7/10 so there are many people who really dig this album, the reactions are being really awesome. We are very happy about his.
 Do you think thrash metal music has much of a shelf life going forward in underground metal?
Lex:  Yes, no doubt. Thrash it's the strongest sub-genre in Metal. Thrash never died. We can look at the big four bands, they are all thrash bands. And in the underground level Thrash is always the winner when It comes to popularity. So the answer to your question is definitely yes.
Please plug any websites or social media sites the band has.
Lex thanks for doing this interview with me, your band's new release is amazing so horns up for doing this interview, any last words to wrap this up?
Lex: Thanks for everything Chris, really liked your questions, hope we can meet one day. I want to thank to all the people from your country for listening to our songs and please if you know a promoter in there, tell him/her to book us. We really want to go there.
…