Reviews
TORRENS CONSCIENTIUM "All Alone with the Thoughts"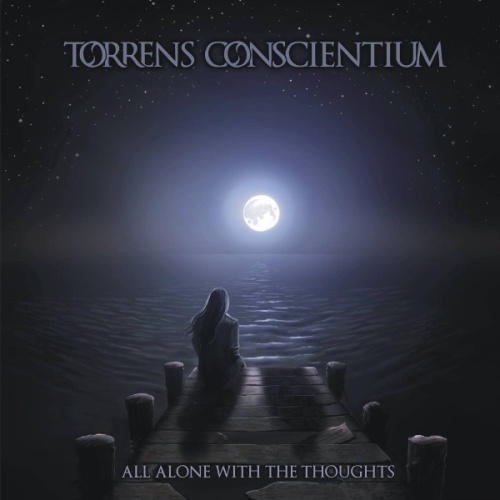 Solitude Prods. -2014 – Ukranie
Torrens Conscientium is a Ukrainian band which was formed in 2009. The band's genre can be described as doom metal but there is more to it than just 'doom metal'; the band strikes the right balance of emotions and heaviness in their sound and this was also one of the reasons that attracted me to this doom metal formation.
The band's first full-length album "All Alone With The Thoughts" has been released last year and it has been on my 'to-be-reviewed' list for a quite long time since I wanted to listen to it with a clear mind. Especially with a record like this, you cannot just listen to it in a hectic schedule. From the beginning to the end, the album just delivers that dark melancholic and melodic doom metal sound. I personally think the listener should listen to this record out in the woods; especially if you are feeling down or sad, the record will punch you in the face with that slow but 'depressing' overall atmosphere, which the doom metal fans will surely love! In this way, I can say that the band definitely shows potential. I should also state that the band's sound is closer to the old doom metal era – especially to the slower songs of Katatonia's "Brave Murder Day"-.
Soundwise, I really liked the combination of the riffs and the melodies but the overall atmosphere of the album would have been even more touching if the vocals had more of a feeling throughout the album; I got the feeling that somehow the vocals did not really move me. Nevertheless, I liked the rawness and the harshness of the vocals; this makes this doom metal record even more brutal (that affects you slowly but deeply) and 'colder' in a way! Furthermore, although I enjoyed listening to the songs, I think that the band can use more diversity in their sound; their potential is clearly seen in the songs and I would love to see this formation try out other elements in their soung and expanding their horizons! My favorite from the record "Hitcher".
"All Alone With The Thoughts" is a great doom metal record that any fan of the genre (and fans of melancholy) will enjoy for sure! Surely, there are some elements that the band needs to improve but the darkness is surely there! If you crave for melancholy, this album will satisfy you!
7,5/10
https://melodyofthesoul.wordpress.com