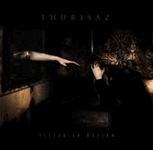 Shiver Records – 2007 – Belgium
The new album of the Belgian dark/doom metallers THURISAZ cannot be categorized that easily. However if I should put a label on their music, that would be "Progressive Dark Metal".
Listening to it the first thing that came to my mind was the influence of OPETH. The music has also some black moments (keyboards gave me that sense).
It contains 9 songs of good progressive dark metal with lots of atmosphere spread all over, while in the middle of the album we have the ballad "Fading Dreams" that is really reminding us of "Damnation" album. But this is not the only ballad in the album, which closes with "Past Perfect" an emotional erotic song, in the form THURISAZ write ballads (remember "Endless" from their previous album "Scent of Loss"). The release has also an instrumental piece called "Impending" which has magnificent atmospheric keyboards.
Top song for me is "Betrayal" which contains some eastern tunes and which is rather different than the rest.
What I personally liked most in the album was Peter's grunts, while the disc's vocals are more than good in total. Of course all compositions are very well constructed and the album is really one of the best to come out this year. Note that release date is 28th of April 2007.
I'm more than sure that this band has a lot of potentials and will be present in the metal scene for many more years.
For more information check the band's site…