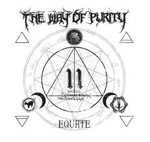 WormHoleDeath Records – 2012 – International
Some news from the band without names and faces in other words of THE WAY OF PURITY. Late last year they released their opus "Equate" via WormHoleDeath Records.
And also with this cd the band takes no prisoners! Hard Metalcore resounds off my loudspeakers. Metal song structures which also can make leeway to the Death Metal area are skilful merged with melodic elements to a hard mass. Melodic riffs come into play a deadly symbiosis with highspeed drumming. Supported by forceful bass lines results this in the independent and nevertheless familiar sound of THE WAY OF PURITY. The aggressive, distinctive growls give "Equate" severity and sustainability. The now and then interspersed female vocals relax the production a bit and even make leeway into the Gothic corner without thereby seeming to be too soft. Occasionaly the foot is taken a bit off the accellerator. The game with very different variations in speed shows the bands' richness in variety. Thereby the all in all ten songs always move in the mid tempo area. THE WAY OF PURITY show with "Equate" that they can do well, innovative home cooking in the Metalcore area also without any faces and that for years! Check out the cd. It's worth it!!!! Who wants to convince himself of the bands' live qualities can do this among other things in April. They will then tour with CRYPTOPSY through Europe.