After one year and half of profitable cooperation with Norwegian artist Tiril Skardal, both The Way Of Purity and the singer decided to part ways. The split has been amicable and it's only due to different goals and directions in respective artistic visions.
Bass player xWithout Namex stated: "We had great time with Tiril and we thank her for the great job that she has done for The Way Of Purity. We wish her the best for her artistic career, but now we have to turn page and go ahead with our incredible new singer Marja Panic".
Marja Panic already started working on some new songs and will be part of the creation of TWOP's third album including the promotion of "Equate" as well.
Marja Panic stated: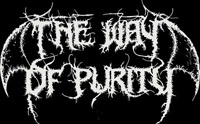 "My name is Marja and I live with the death in the heart.
My deepest roots are in nature. No matter who I am, where I live, or what kind of life I lead, I will remain irrevocably linked with the rest of creation.
Nature, give me one chance and every action will be for you.
You are my reality, I will be your gold.
I will summon Tsunami and Earthquke cause I fell like you, with the death in my heart, since that dirty scap of meat surfaced from the Sea and screamed at you " I am humanity".
This is what pushed our hearts to death.
My God, withness what I can do. I can scream the illness away and make them new."