Swedish Experimental/Progressive band THE MOTH GATHERER has premiered the first song from the upcoming debut album out on Agonia Records. "A Road of Gravel and Skulls" – an 8 minute massive track full of progressive emotions and melodic slower-sections, can be streamed below.
The debut album entitled "A Bright Celestial Light" (cover below) will hit the shops on April 16th in Europe and April 30th in North America.
"A Bright Celestial Light" will consist of 5 original compositions with a total playing time of 44 minutes. The album has been mastered by Karl Daniel Liden (Terra Tenebrosa, grammy nominated Switchblade album) and will feature a guest appearance from Member 001 of The Konsortium fame.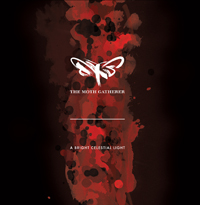 Tracklist:
01. The Water That We All Come To Need
02 . Intervention
03. A Road of Gravel and Skulls
04. The Womb, The Woe, The Woman
05. A Falling Deity
THE MOTH GATHERER's music is hard to label, due to band's non-one-dimensional approach towards the songs they create; the Experimental/Progressive etiquette seems almost too laconic to fully do justice to the spirit of the compositions. The debut offers up long and complex tracks, but still surprisingly simple and compelling. Abundance of tempo changes and variations that surround the album bask in emotionally charged, progressive yet utterly melodic slower-sections, addictive enough to stimulate the imagination.
"We just want our music to be an emotional explosion" – comments Alex, co-founder. "A lot of the songs is about death, missing people you loved who have passed away and losing hope in mankind. We want the music to make you feel like you can move mountains with it. I wish f or that when people hear our music, they start to dream away."
THE MOTH GATHERER is recommended for fans of Neurosis, Breach and Cult of Luna.