Reviews
THE GLOOM "… Bless You All"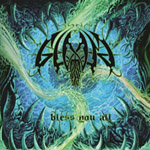 Cristal Eyes – 2012 – Spain
This album is waiting for review for a long time, finally It's turn is come. Gloom is from Spain and they formed in 2002. They released their debut full-length in 2009. And finally they released this EP in this year.
The band performing death metal but keyboards sounds like melodic black metal bands. By the way you can hear grindcore influences. Scream vocals sounds more black metal but sometimes it reminds you grindcore/brutal death bands with blast-beats and guttural vocals.
Production is not well but acceptable for genre. Compositions are welldone. I can recommend this noisy band to death metal fans.
7.5/10